This is What I'm Watching Most Closely
Delayed Reaction Speaks Volumes
Iran has a new partner. It's a big deal and it should be infuriating Trump.
China will invest $280bn developing Iran's oil, gas and petrochemicals sectors
may be front-loaded into the first five-year period of the deal
with further amounts available in every subsequent five-year period
will be another $120bn investment in upgrading Iran's transport and manufacturing infrastructure
Chinese companies will be given the first refusal to bid on any new, stalled or uncompleted oil and gasfield developments
Chinese firms will also have first refusal on opportunities to become involved with any and all petchems projects in Iran
I retweeted this @ForexLive news by 8AM ET morning of the 4th. I fully expected Trump to retaliate as this China move clearly went against US sanctions on Iran. But crickets from Trump/White House. And yet, I fully expected a rug-pull after the gap up on Wednesday the 4th so I stayed short versus cover. Omg, still more crickets. The entirety of the day passed. Then Thursday we had a Yuge gap up above the 50D and my 'cover shorts' $2945 SPX price target was taken out! ARGH!. So now I'm thinking, something is up with this very unnatural response from Trump; he's not known for his reserved contemplation. That's what prompted me to look for reasons for the strength and why I penned my post:
Market Thoughts: What If There Is A Trade Deal?
Add to that the risk-off trades of Silver, Gold and Bonds (which I timed with precision) reversing strongly/selling-off were now making the rounds, justifying the big rally in stocks.
---
"I think these metals are parabolas with a case of vertigo"
So how did that Bond Short call work out? $TNX $TLT Largest 1d percent change up move in the 10yr since the 2016 election.
You can follow my actual trades here:
---
But Sunday has finally garnered an expected response:
UNITED STATES WILL CONTINUE TO IMPOSE SANCTIONS ON WHOEVER PURCHASES IRAN'S OIL OR CONDUCTS BUSINESS WITH IRAN'S REVOLUTIONARY GUARDS AND NO OIL WAIVERS WILL BE RE-ISSUED @FirstSquawk

11:02 AM · Sep 8, 2019
 Still no Trump Tweet yet, but this week should be telling: Trade Escalation or Trade Détente
---
Updates on Recent Posts of Importance
The following articles are first provided to fishing club members each week to identify macro inflection points and actionable micro trade set-ups. Join Samantha for her Forward Looking, Forward Thinking market timing analysis and trades.
Metals are Parabolas with a Case of Vertigo
From my post – Market Thoughts: I Sold My Gold & Miners Today – I caught this great chart h/t @chigrl. It's another sound reason for Gold/Silver/Miners to revert to a mean-of-sorts before relaunching.
As per JPM, Gold

prices are overshooting US real rates and the trade-weighted dollar by about 10%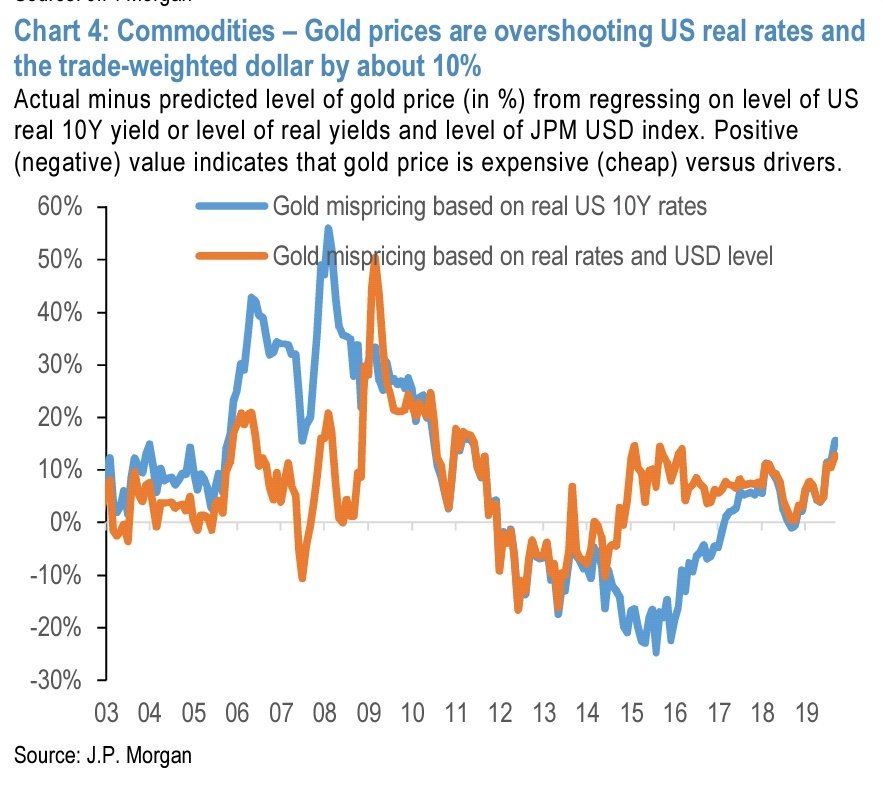 And this excellent chart by @KimbleCharting
Careful Bond Longs As This Narrative Picks Up
And with that, just in the past week, I caught several VERY substantive articles circulating on the dangers of low/negative rates:
And this awesome chart by @JulietteJDI that demonstrates how lower rates stimulate savings over investment and spending – the opposite of the desired policy objective…

What Happened To Volatility?
Remember my article from summer: Silver and Gold are the new VIX? Well might be time to reverse that soon: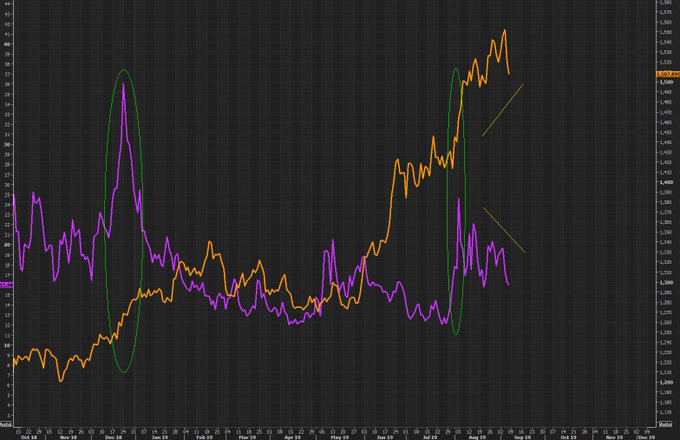 Lastly, I'm watching the Yen:
Foreign investors have been buying Eurozone and Japanese bonds this year as 10y Bunds and JGBs offers yield pick up relative to 10y USTs w/3M rolling FX hedges. Foreign investors have bought ~$210bn of Eurozoz (of which around $130bn of govt bonds) & $70bn Japanese bonds in H1'19 @schudlensuehner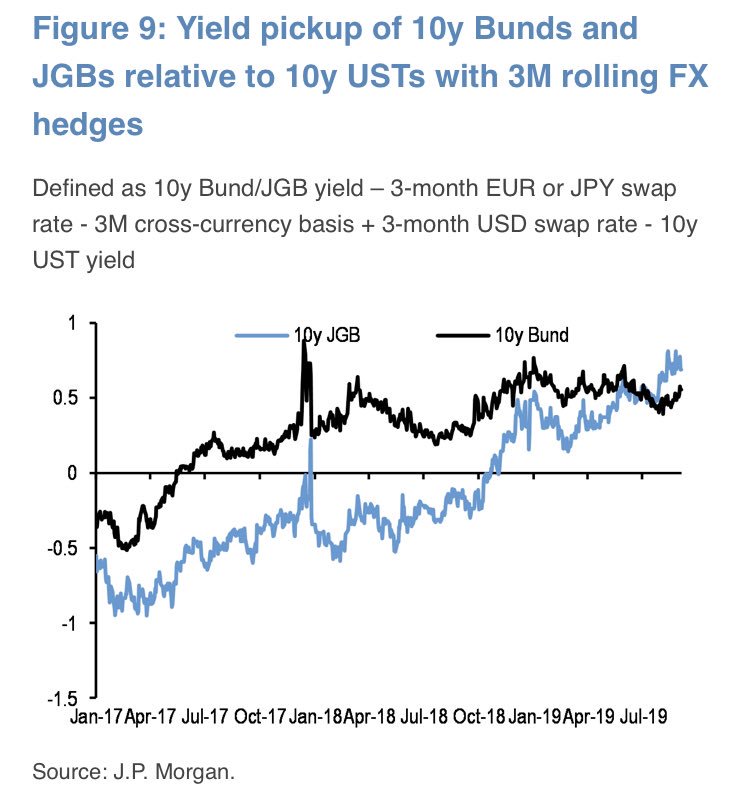 My Interpretation: Right now we have a strong US Dollar. When this trend reverses, it will be very bad for Bond holders. And stocks. Just as both bonds and stocks sold off violently in January 2018. The result will also be bad for JGB as investors unwind their long JGBs & Bunds, forcing UST yields higher. 
Macro Really Matters.
---
Earnings Calendar
Mea Culpa: I was short COUP for run-down into EPS and luckily took it off pre-announcement. Yeah, it's not ready to let go at 56% reported growth. I was long CLDR x2 position and only took off half before they reported last week. They beat as expected and it continues to be my best Trend play since $6.04 August 1st – now $8.80.
I was planning to be short ULTA as discussed in my live trading room for two weeks but got in a funk about being off sides the rally post G7 and was reminded how important it is to safeguard emotional capital as much as financial capital. And ironically: the September $300 puts I was planning to purchase for $2 would have increased 1700% post ULTA eps – and that's nothing compared to the 22,000X of a Friday lotto that I wasn't considering. Point is: earnings are a gamble but sometimes they are worth taking.
For this week I like/have GME Long and will try a small RH short. To follow me:
Economic Calendar
Focus on Consumer: On Wednesday, we get the latest report on consumer prices. Inflation has remained tame so far this year. No change is expected. Then retail-sales report Friday. I am long the consumer as an oversold, bottom-fishing, 'value' play.
Focus on Rates: ECB will release their rate decision Thursday. I'm betting they don't raise as much as expected.
Focus on Trade News: Every headline will be watched, from Beijing to Washington, Hong Kong and Iran. Is the US really going to follow through with an October meeting with China?
Color me skeptical. 
Focus on Oil: OPEC and allied non-OPEC partners are scheduled to be in Abu Dhabi this week to discuss stabilizing world oil markets. Plus we have headline risk from Trump retaliation on China doing business with Iran. See above thesis on Delayed Reaction Speaks Volumes.
Stocks of Interest
Apple Product and Pricing Reveal
All eyes turn to Cupertino on September 10 for the Apple (NASDAQ:AAPL) product event. Apple is expected to release two higher-end iPhones (5.8-inch and 6.1-inch OLED) and a lower-priced LCD iPhone. A processor upgrade and triple-lens camera in the back are expected for the OLED versions. A new Apple Watch is also likely to be displayed, while it's possible new Macs, AirPods, Apple TV+ details, Apple Arcade news and other gadgets could also be unveiled if those reveals aren't held back for separate events. Pricing on all the above hardware will be interesting. Does Apple management assume the December 15 tariffs on Chinese imports won't be a problem? SeekingAlpha
Morgan Stanley global healthcare conference will include a who's who of players that will see action this week.
---
Remember, I run a LIVE Trading Room and offer Day or Week Passes if you want to check it out!