Funny Ha-Ha or Funny Strange
I am going to share an inside joke with you, and then talk about how this market is one giant Inside Joke.
For clients in my Live Trading Room and readers of my Gone Fishing Newsletter, you know how I have been studying and trying hard to translate not only Repo-speak, but also possible implications on market volatility.
Recently, I asked a former HF manager and rates trader (@MacroMorning) a favor:
Banks and therefore markets need a smooth transition from "repos to POMOs" or from the "current repo regime to a standing facility" at the upcoming FOMC mtg. And retail needs an education on what that even means and why it matters. Jess, can you write about this soon? You make such complicated concepts understandable. 
Today in my inbox she answered with a full post! Here's my tweet promoting it. I'm sure you will get the Inside Joke quickly:
Duck Trading? Really, Jess?
All in good fun. And with that, go check out her post!
Laughing With Me or At Me?
Who was short AAPL from Friday only for the name to pop after JP Morgan upgraded it on iPhone sales – jusssst in time for end-of-quarter markup?! 
Well, if you were AAPL, (or also a trader that was swing short AAPL before news of "China waivers granted" stopped you out), would you be laughing at this news that just hit at the close:
'Apple Is Denied Tariff Relief on Five Mac Pro Parts After Staying in Texas' -Bloomberg
WHAT if you were short China plays on news Friday that Trump was considering delisting Chinese companies from U.S. exchanges to curb China's capital flows, only to have the White House label it "Fake News" a full 56 hours later as markets opened Monday morning. You know that's a big Inside Joke all around, isn't it?
WHAT if you were die-hard, kool-aid drinking WeWork employees that just learned there won't be an IPO? Or, the bond holders that paid UP when WeWork debt came to market, (as it was oversubscribed 5X), now crashing. Big Big Inside Joke, right?
WHAT if you were Softbank, on the hook for 29% of WeWork financing? Yeah, I bet they're laughing with so many Silicon Valley Venture Capitalists, especially as SO MANY other Unicorns and recent IPOs are no longer flying anywhere near as close to the sun anymore.
And no doubt, Pension funds and Creditors of all shapes and sizes just laugh when they read stuff like this:
Around 40% of investment-grade companies now have obligations that are more consistent with junk ratings, according to Morgan Stanley.
They have been losing money not making it! In fact, if you open up the list of holdings you will see ONLY one add (as of 6/30/2109): BABA!! H/T @gamesblazer06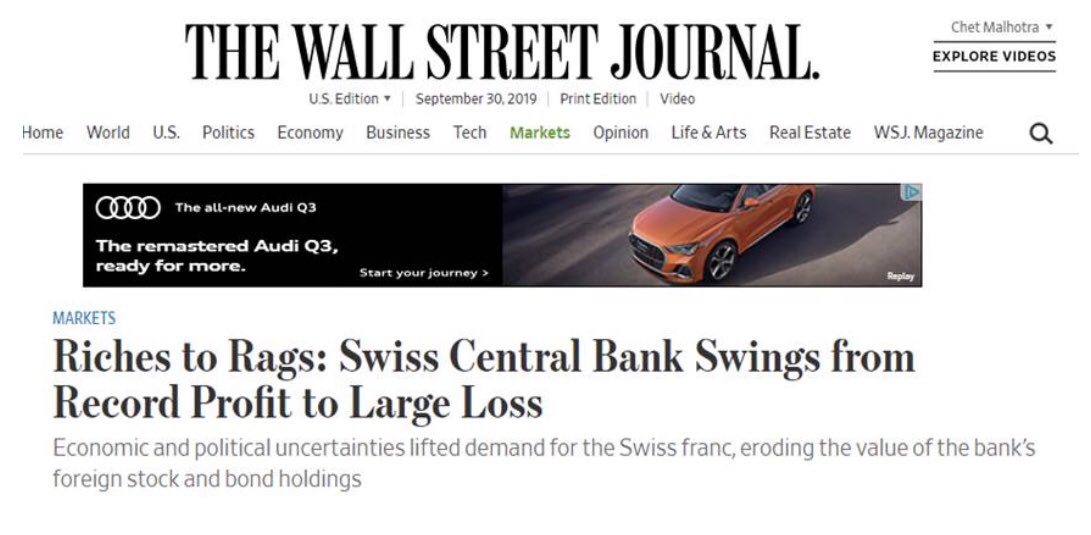 ---
---
The Week Ahead
Beware Low Volume This Trading Week – where small fund flows placed strategically can make big impact.
Rosh Hashanah is today and Asian markets are on holidays rest of week starting Tuesday. Hong Kong and China are both out for Golden Week.
Earnings Calendar
We have some stragglers still before the Big Earnings Calendar starts in two weeks. Keep in mind, Earnings are expected to contract 3.8% from the same period a year ago. With that though, the earnings bar has been set so low that is 'should' be easy to beat. God help those who don't (see MU Friday and they 'beat'!!). Anyway, Wall Street loves positive earnings surprises even if they aren't.
Economic Calendar
Obviously, we have Non-Farm Payrolls on Friday as well as Fed Chair Jerome Powell speaking same day!
Monday – end of the month and quarter-end. Rosh Hosanna means low volume likely. USD Chicago PMI
Tuesday – A new month and the first day of Q4. ISM Manufacturing PMI will be watched closely!! Markets are closed in China today for the rest of the week. RBA Rate Decision
Wednesday – ADP (NFP preview)
Thursday – Global PMIs. Markets are closed in Germany and Korea. Jobless Claims and Markit Services/Composite PMI.
Friday – US Non-Farm Payrolls NFP/AHE/Unemp (NFP e140k p130k). Also US Trade Balance and Fed Chair Powell speech
---
---
---
---
Macro-To-Micro Trading Ideas
Gold, Silver, Miners are either going to reverse lower in a big way from that Head&Shoulders pattern in GLD that everyone is spying. Or they will surprise and continue higher. Get your popcorn OR my Brokerage-Triggered Trade Alerts as I have a position on at pretty much all times and have been trading this asset class very well.
Next two charts from @themarketear
China Volatility is US Volatility
VXEEM (volatility of EEM etf) vs VIX (volatility of SPX) clearly track each other. And biggest components of EEM are Tencent and Baba, which few really appreciate.
Take a moment and read my piece from June on this very touchy subject: U.S.-China Trade War's Next Target: Capital Markets
Then check out this Tencent chart (TCEHY) on the edge:
Recent Economic Tells
Consumer Spending Flat in August. This doesn't help the economy since consumer spending accounts for more than two-thirds of U.S. economic activity.
Business Activity: Contraction. Chicago PMI internals, via @JohnSpall247. Yeah, we need Business Expansion as they hire the consumer who does the spending.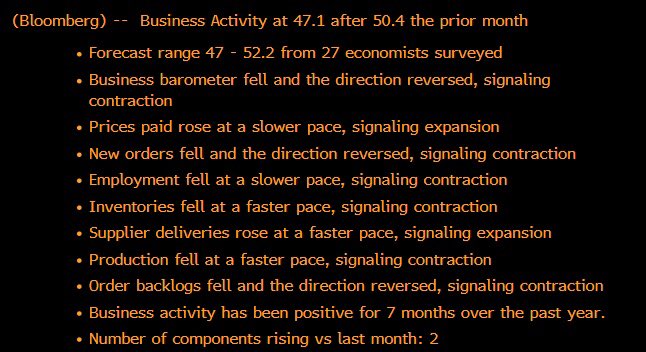 Sold To You Market
I will close on the BIGGEST JOKE OF ALL: how our market topped out in January 2018 – just as Trump's Trade War on China was heating up. And we haven't gone anywhere but sideways with big volatility since.
My mantra remains, this is a SOLD-TO-YOU market.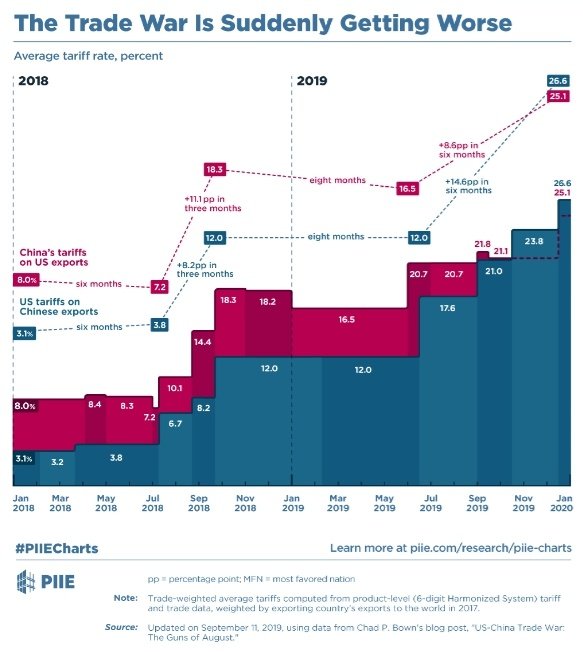 Want more proof? I will just end with this chart because Money Flow Matters and Global equity outflows are now up to -$230B ytd.
---
---
An Invitation for Active Traders and Investors:
Come Learn how Jerremy Newsome at Real Life Trading and I interpret and trade market-moving news on multiple timeframes, using options!
Macro-To-Micro Power Hour
Wednesday Oct 2nd at 6PM CT