Market Thoughts
If you thought that was a nice move from 3018 to 2985, well consider this: my breadth indicators (this is but one) are indicating the roll-over is just starting. The indices just don't know it yet 😉
Fave Chart is NYSE for charting. Here I use the Bullish Percent NYA indicator to visually represent 'flow'. Flow is about to break the 20D pulling NYSE down into that (yellow) trend-line (top panel). I suspect it breaks but not until a week after FOMC. (This timing view is combined with my intermarket analysis work on my stock-bond-volatility ratio read.)
And Just as Retail Comes Back into the Market
$62 billion — That was how much retail money flowed into exchange traded funds for June, marking the highest monthly inflows since January 2018, and reverses outflows of $14 billion in May, according to Jefferies.
Dumb Money Confidence rose above 80%, ranking in the top 2.3% of all daily readings since 1999 when it has been above 80%, the S&P 500's annualized return was -4.5%, versus +35.1 % when Confidence was below 25%. @sentimentrader
Then you add in the fact that SPY is constricted, meaning, the trading range is the narrowest since 2017 and you can equate this suppressed range to trying to contain a puppy in your arms. See how long that lasts.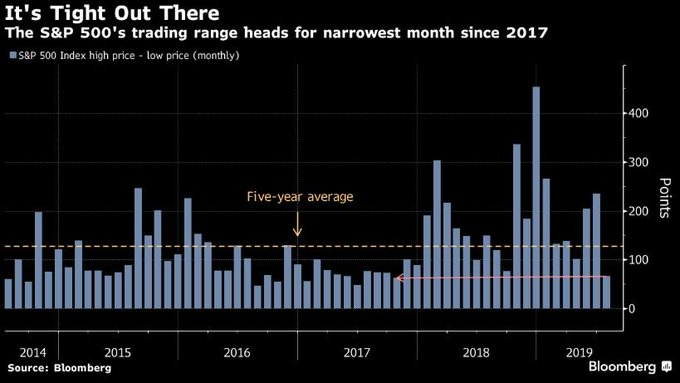 And then there's the other sentiment I follow: VIX option activity…
only 16,110 VIX puts traded today. that's loooooooooooooooooooooooooooow

— cj cummings doesnt even split jerk (@selling_theta) July 22, 2019
With that, expect my
trade alerts
to potentially be Very Busy next few weeks/months as I firmly believe Volatility will be picking up in earnest as FOMC finishes its business and we can commence with our seasonally weak stock market period!!
Stocks come under pressure seasonally from the mid July into the Fall, as earnings wind down (whether they beat or not) and as Fed Cuts (satisfying neither Bear nor Bull). Also, keep in mind my Main Thesis for 2019:
Rate cuts only embolden Trump to raise Tariffs.
Oh, and don't ignore Mexico + Tariff Threats on Trump's Immigration fight. #HeadlineRisk.
Debt Ceiling Resolution to Trigger Volatility
And last but certainly not least…
Markets have already acted as if 50 bps are coming in to "insure" against recession risk.The hope is that the dovish policy, of an insurance rate cut or two, can kick the bear case down the road. A more immediate concern is the effect on Volatility from debt ceiling passing! Yes, you read that right. Once passed, Munchin will go about withdrawing large swaths of liquidity which will invariably cause $DXY to break up. Timing is not known but structurally, the removal of liquidity is Volatility inducing. So why wait? Get your risk-off positions in place before the markets do!
---
Macro Matters
There Is An Alternative: Go Abroad!
Economic Data
U.S. MANUFACTURING output was up by +0.3% in the three months Apr-Jun compared with the same period a year earlier, slowest rate of growth since Nov 2016:
Chicago Fed National Activity Index for June
The Chicago Fed National Activity Index, a measure of economic activity in the U.S., ticked up in June but stayed at a negative reading.

For June, the index was -0.02, up from -0.03 the month before. The Chicago Fed said that one of the four broad categories that comprise the index–the employment category–contributed positively to the reading at 0.06, up from -0.08 in May.

Production-related indicators had a neutral reading in June, down from 0.08 in May. Industrial production also was unchanged in June. The sales, orders and inventories category decreased to -0.03 in June from 0.02 in May. The personal-consumption and housing category was unchanged at -0.05 compared with the previous month.
Economic Calendar for Tuesday
7:45 AM EST               ICSC Weekly Retail Sales
8:55 AM EST               Johnson/Redbook Weekly Sales
9:00 AM EST               FHFA House Price Index MoM for May
10:00 AM EST             Richmond Fed Index for July
10:00 AM EST             Existing Home Sales MoM for June
4:30 PM EST               API Weekly Inventory Data
Trade Wars and More
With Boris Johnson becoming prime minister, the risks of a no-deal Brexit will rise to an all-time high. Even if the U.K. parliament votes against the maneuver this week, it will still happen unless the EU and the U.K. agree another delay come Oct. 31.
Oil is surging as traders brace for the UK's response to Iran's seizure of a British-flagged oil tanker. West Texas Intermediate and Brent crude prices rose more than 2% after Iran seized the Steno Impero and signaled it wouldn't let go of the vessel until the UK released an Iranian-flagged ship it seized earlier this month
Iran Says It Will Execute Group of Alleged CIA-Trained Spies
Iran, locked in a worsening political standoff with Western powers, has handed down death sentences to several nationals accused of being part of a CIA-trained spy network uncovered earlier this year, an official said on Monday.

U.S. President Donald Trump denounced the Iranian report as "totally false" on Twitter Monday. "Just more lies and propaganda (like their shot down drone) put out by a Religious Regime that is Badly Failing and has no idea what to do," Trump said. Beyond that, an administration official said the White House doesn't comment on intelligence activities.

In Tehran, a senior intelligence official told foreign media that 17 people had been arrested. None of the suspects are dual nationals, according to the official, who declined to be identified and didn't say how many were sentenced to death.
China says U.S. criticism over South China Sea is slander
Remarks by U.S. officials on China's role in the South China Sea are slanderous, its foreign ministry said on Monday, after the United States voiced concern over reports of Chinese interference with oil and gas activities in the disputed waters.

China's claims in the South China Sea, through which about $5 trillion in shipborne trade passes each year, are contested, all or in part, by Brunei, Malaysia, the Philippines, Taiwan and Vietnam.

On Saturday, the U.S. State Department said China's repeated provocative actions aimed at the offshore oil and gas development of other claimant states threatened regional energy security and undermined the free and open Indo-Pacific energy market.

U.S. President Donald Trump's hawkish national security adviser John Bolton also said on Twitter that China's coercive behavior towards its Southeast Asian neighbors was counterproductive and threatened regional peace and stability, echoing earlier comments by Secretary of State Mike Pompeo.

In Beijing, Foreign Ministry spokesman Geng Shuang said such comments by Bolton and Pompeo were baseless, adding that the United States and other "external forces" were stirring up trouble in the South China Sea.
Tear Gas, Attacks and Beijing's Warnings Fuel Hong Kong Anxiety
A night of protests and clashes in Hong Kong — including tear gas volleys and roving groups of masked men attacking protesters — prompted the strongest warnings yet from the Chinese government and fanned fears of escalating violence.

Police fired smoke canisters to clear Hong Kong's streets late Sunday after demonstrators defied government requests to cut short another large and otherwise peaceful march through the Asian financial hub. Thousands of protesters had earlier surrounded China's liaison office and defaced the national emblem, an act that Beijing's representative said in a statement "seriously challenged" the central government's authority.

Around the same time, groups of men wearing white shirts and surgical masks attacked metro passengers in the Yuen Long area, miles away near the border with the mainland metropolis of Shenzhen. While no arrests were made and it was unclear who the assailants were, the group targeted people dressed in black, the preferred color of demonstrators. An opposition lawmaker and several journalists were among dozens reported injured in the melee.
Stocks of Interest in the News
Disney (DIS): Disney's weekend haul 'saves' second-quarter box office
It is official: "Avengers: Endgame" has surpassed "Avatar" to become the highest-grossing film of all time, while the live-action "The Lion King" dominated the weekend box office, setting Walt Disney Co. up for a stellar year.

"Avengers: Endgame" has generated box office receipts of about $2.79 billion in 13 weeks.

"Avatar," backed by Twentieth Century Fox which is now owned by Disney, held the record for a decade at $2.789 billion, after it knocked "Titanic" off its perch. (That now places those two films, both directed by James Cameron, in second and third place in the rankings.)

"The Lion King," set a July opening weekend record with box-office receipts of $185 million, according to Box Office Mojo, exceeding the total gross from the same weekend a year ago and surpassing "Harry Potter and the Deathly Hallows Part 2," the previous record holder that grossed $169.1 million in its opening weekend in July of 2011.

Disney is planning to release 10 Marvel films and series in 2020 and 2021.
From Datatrek @Google, @Facebook and @Amazon all report this week:
$GOOG is the problem child here: they've missed the last 2 quarters and analysts expect a negative comp to Q2 2018.

$FB analyst estimates forecast almost-certain margin contraction and only 8% earnings growth….

$AMZN is the only one of the three expected to produce good earnings growth (10%) but remember they face a tough comp to last year.
Samantha Says
Jul. 22nd, 8:44 am

Good Morning! Oil prices are higher to start on Iran concerns, while markets prepare for the busiest week of the earnings season. Good luck this week/today!
Jul. 22nd, 8:46 am

"FedEx (FDX) mentioned positively in Barron's saying shares could rise to $200 since earnings are likely to climb an average of 12% in each of the next two years due to e-commerce growth and higher profit margins and that worries about competitive threat from Amazon are overdone" I happen to like the chart, to have exposure to the very oversold transports group and this is my fave to trade in the group. (Long)
Jul. 22nd, 8:49 am

Covered my chase short in DIS Friday expecting news of weekend box office results would crush it for the Lion King. They crushed.
Jul. 22nd, 8:52 am

DIS cont… and then Avengers: Endgame finally passed Avatar as top grossing hit ever — $2.789B worth of movie tickets sold. With another Star Wars coming (shocker), Disney's on pace to earn $9B at the box office this year (which would also be a record). Question is: how much of this is already priced in?!
Jul. 22nd, 8:54 am

NFLX suffered its worst earnings miss ever after US Netflix subscribers actually decreased by 126K in the past year Content down, Price up = Disappointment. I am Swing short from last week $300P. ($310 PT)
Jul. 22nd, 8:59 am

BA stock is down only 11% since the (software woes and 2nd plane crash in March). That's because there's only 1 plane-maker customers could switch to – Airbus — and its orders are booked out for almost 8 years (Robinhood Snacks). BA has earnings Wednesday. Move above $380 is bullish. I sold my Chase long Fri but I may put on a call calendar spread for EPS.
Jul. 22nd, 4:40 pm

Oil gapped up this mornming but the rest of the space kinda petered out. And yet, I decided to re-enter VLO – with time. Best chase idea was HAL but it ran too fast. Almost as fast as shorts covering in BYND 😉
Jul. 22nd, 4:40 pm

BA was downgraded by Fitch at exactly the

$380PT

. baahaahaa. Ok, seriously, I'm waiting for earnings.
Jul. 22nd, 4:41 pm

SNAP – not waiting. I have two positions long. I really like this set up, story and sentiment. Very bullish.
Jul. 22nd, 4:42 pm

NFLX I closed as I mentioned my $310 PT even thought I suspect after a bounce it firmly heads down to 100WK at $300.
Jul. 22nd, 4:42 pm

I am long X and FCX into FCX earnings. Not related except they are both very oversold commodities and I'm seeing signs of trend reversal.
Jul. 22nd, 4:45 pm

Following Swing Shorts were trimmed: UNH HD JNJ Following Chase Shorts were stopped out: AAPL MU SLV *way too close stop
Jul. 22nd, 4:45 pm

VIX puts purchased today were at an extreme low… signifying not a good play 😉
Wall Street Jane's Journal
Jane is not only Samantha's Live Trading Room moderator, she facilitates client engagement and relays Samantha's trade ideas into the LaDucTrading StockTwits Premium Room. A former banking VP during the GFC, she now trades full-time and actively shares her trading ideas, plan and process.
Trade Idea: $TIF Short
I had a short trade on TIF last week, but it was just chopping around and remained in that daily squeeze. Last night I discussed again:
This morning it appeared to be breaking the bear flag trendline and I made note of it:
It remained below the trendline for the rest of the day – closing down 1.01% to $91.73. It still has much work to do if it's to make a decisive break lower, including the 200WK moving average at 90.74. I took a small position with September ATM calls. Will add upon break and hold below $90. Note that because it's been in a squeeze for so long, the daily bollinger bands are very tight and it may take some time for it to make another marked move. However, below the 200WK and it's air below with some room between price and the bollinger bands.
Great Reads
The length of the economic and market expansion – long and slow.  The Economist reviews the arguments
Not a great read, but a great short watch thanks to German Public Broadcasting: A women's Tour de France?