Trump's Tariff Tantrum causes the w
orst May stock market decline since May 2010!
For the month, the Dow Industrial Average fell -6.69%, the S&P 500 dropped -6.58%, and the Nasdaq Composite declined -7.93% as the three major averages posted their first monthly losses of 2019. For the week, the Dow fell -3.01%, the S&P 500 dropped -262% (biggest weekly slide since December), and the Nasdaq Comp declined -2.41%. The Dow fell for a 6th straight week, longest streak since 2011 and both the S&P and Nasdaq fell for a 4th straight week.

Hammerstone 
But then over the weekend…
PENCE: U.S. CAN `MORE THAN DOUBLE' TARIFFS ON CHINA IF NEEDED

And this just after Trump threatened Mexico with tariffs Thursday night – as retaliation for his perceived threat of immigration flows across the border…
Then Saturday we learned India will lose it's "developing nation" status because Trump wants Americans to believe India has not sufficiently opened their markets to US products and manufacturers.
On A Positive Note, so far
It's hard to find good news with the headlines and price action, but SP 500 earnings trends are just not that bad (yet). Brian Gilmartin
Here is an update on SP 500 Earnings as of 5/31/19 (Source: IBES by Refinitiv):
Fwd 4-qtr estimate: $171.47 vs last week's $171.60
PE ratio: 16x
PEG ratio: 3.5x
SP 500 earnings yield: 6.23% vs last week's 6.07%
Year-over-year growth of fwd est:+4.66% vs last week's 4.76%
For Q2 EPS, this is what is expected: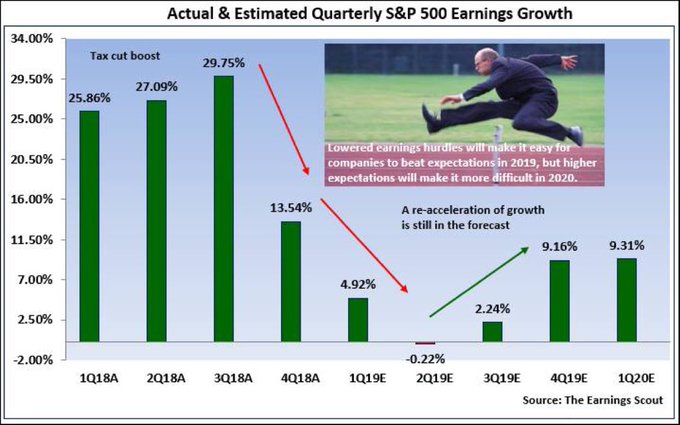 On The Negative Side
US Foreign affiliate sales could be in danger with the US-China Trade War
US Sales in China – US Companies selling goods+services within Chinese market – is as much as US-China Trade Deficit.
Clearly US business and US jobs are put at risk of China Retaliation from Trump's Trade War.
Economic Calendar
Last week in a nutshell:
Markets gave up four months of gains
Oil dropped 16%
Mexico added to Trade War
This week:
New month
US NonFarmPayroll 
ECB and AUD rate decisions
Monday June 03
Global and US PM prints were released
The ISM manufacturing index fell to 52.1 from 52.8 and is now at the lowest since October 2016. (Last week, the PMI version of manufacturing hit a 10-year low.)
Basically: Global recession fears mount as manufacturing PMIs around the world confirm contraction:
All below 50.0
South Korea
Japan
Taiwan
Malaysia
Russia
Poland
Turkey
Czech Republic
Italy
Germany
UK
All 3 stagnating and on the brink of contracting
Tuesday June 04
RBA rate cut was expected in Australia and delivered. We had both Williams and Powell speak – Powell fueling the short-covering market rally.
USD Factory Orders (MoM):
Factory orders sank again last month.  Orders dropped 0.8% in the month. Demand was even weaker for durable goods — products such as autos, appliances and machines meant to last at least three years. These orders sank an unrevised 2.1%.
Wednesday June 05
Fed Bostic and Vice-Chair Clarida speak
01:45 CNY China Caixin Services PMI
08:00 EUR Eurozone Markit PMI Composite
08:30 GBP UK Markit Services PMI
09:00 EUR Eurozone Retail Sales (YoY)
12:15 USD US ADP Employment Change
13:45 USD Markit Services/Composite PMIs
14:00 USD ISM Non-Manufacturing PMI (e55.5 p55.5)
Thursday June 06
The ECB rate meeting is the big news today. Traders will be watching for TLTRO 3 (aka QE 2) commentary. Boj's Kuroda speaks.
09:00 EUR Eurozone 19Q1 GDP (final s.a.) (QoQ e0.2% p0.4%)
11:45 EUR ECB Rate Decision/Statement (0% hold est)
12:30 EUR ECB Draghi Presser
12:30 USD US Trade Balance
12:30 USD US Jobless Claims/Labor Costs/Productivity
Friday June 07
First Friday, so it's NFP for US and Canada
We go in to the weekend G20 Summit where the US/China conflict will be high on the agenda.
05:00 JPY Japan Leading Economic Index
06:00 EUR Germany Industrial Production/Trade Balance
12:30 USD US NFP/AHE/UnEmp/Participation (NFP e190k p263k)
12:30 CAD Canada NFP/AHE/UnEmp/Participation (UnEmp e5.8% p5.7%)
---
Earnings Calendar
---
Important Reads