Market Thoughts
We now have another 'milestone' reached: The entire US Treasury curve is below the Fed overnight rate.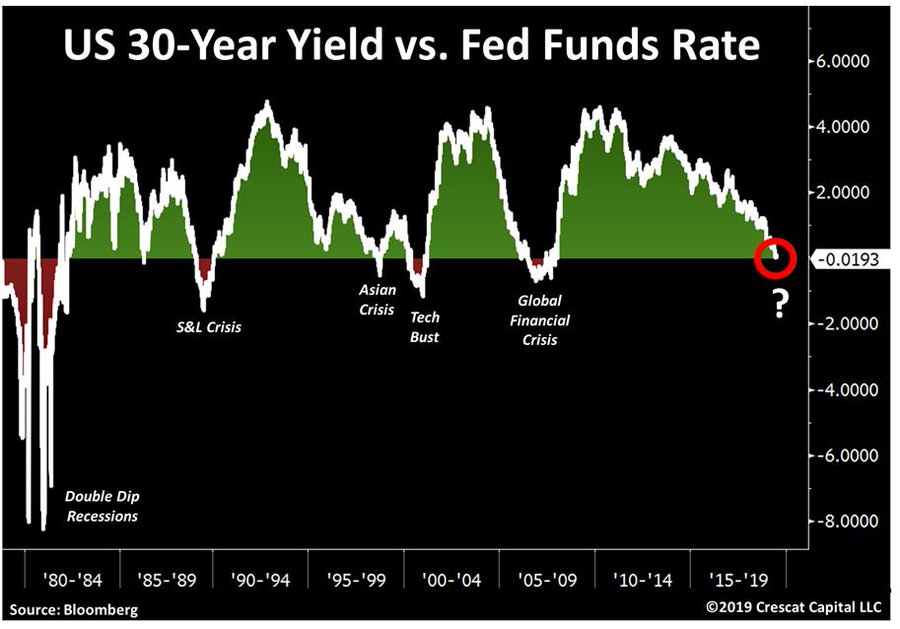 "Net borrowing needs will continue to increase due to the expected increase in the deficit combined with funding needs coming from the Fed's debt run off," said Margaret Kerins, global head of fixed-income strategy at BMO Capital Markets Corp. "Given the global backdrop with Brexit and China's economy slowing down, there is really a bid for safety, liquidity and quality — which means Treasuries — and that's keeping yields in check to some degree."
Despite the flood of new Treasury supply, Treasury yields haven't surged because demand hasn't dampened for the "world's safest securities". But if China rebounds, if US-China trade War ends… if BOJ changes its yield control program… treasuries will be sold and yields will spike. So, Be Careful What You Ask For, Market!
Stealth Tightening
Speaking of the BOJ, while many were watching or contemplating fireworks last night –
or the ones about to occur in DC
– Bank of Japan was making some Yield Curve Maneuvers in the Dark! Again!!
The article is on the Bloomberg Terminal (so not linkable for non-subscribers), but suffice it to say: BOJ wants to steepen their yield curve and if BOJ steepens their yield curve, global yields will jump, Yen will rise and equities will sell off – in time, not all at once people.
So when you return to the market Friday or Monday, look for news of even a very modest change in policy stance by the Bank of Japan and then consider last time they did a stealth move like this in 2016 and again in 2018.
Even sheer mention of it last July 2018 caused this reaction:
The yield curve steepened by about than 10 basis points, which is a huge move — Japanese government bonds rarely move more than a basis point during a day's trading. Hedging by primary dealers ahead of a 400 billion yen ($3.6 billion) 40-year JGB auction on Tuesday probably exacerbated the reaction.
And in the same way US Stocks and Bonds have been moving up together, they can move down together too. Watch for our 10-year yield to jump with expected lower demand for Treasurys from Japanese investors. I'm not expecting this time to be as dramatic or impactful as the run up to Oct 3rd, but it should afford some nice shorting opportunities in Stocks and Bonds.
Happy 4th!!
Macro Matters
ADP print with +102,000 job figure for June missed estimates … and I'm not surprised. I wrotee about it a month ago: Goldilocks and the 3 Bears of "Layoffs, Unemployment Claims, and Payrolls"
And about those negative yields in Europe!
Anything left with a positive real yield in Europe is getting eaten up right now. Sovereigns don't offer much and if you want to take on corporate credit risk? This is the yield you're getting on the BBG Barclays EuroAgg… pic.twitter.com/ca7D6EK61q

— Jonathan Ferro (@FerroTV) July 3, 2019
Economic Data
ADP Employment Report: 
Payrolls processor ADP says that private payrolls for the month of June were 102,000, blow the forecast of 140,000. May's paltry employment numbers were revised upwards by 14,000 to 41,000. Large businesses led the growth in June, adding 65,000 jobs. Small businesses are struggling, losing 23,000 jobs. By sector, education and health added 55,000 jobs. Professional and business added 32,000 jobs. Construction lost 18,000 jobs.
U.S. Trade Deficit:
The U.S. trade deficit rose to 55.5B in May, jumping 8.4% to the highest level of 2019 – reflecting record U.S. auto imports from Mexico and other countries. U.S. exports rose 2% to $210.6 billion. The U.S. shipped more soybeans, autos and parts, passenger planes and networking equipment.

Imports increased a larger 3.3% to $266.2 billion. The U.S. imported more foreign autos, oil, semiconductors, computers and cell phones. Auto imports hit a record high, likely because companies tried to get ahead of threatened tariffs.

The trade gap with China rose slightly in May to $31.1 billion, but it's running behind last year's pace owing to U.S. tariffs.

Yet the U.S. is still on track to record a larger annual trade deficit in 2019 compared to the prior year because trade gaps have increased with other key partners such as Mexico, Europe and Canada. The deficit with Mexico in May, for example, was the largest ever.

Other Economic Data:
US Markit Service PMI:  June was 51.5 (est 50.7; prev 50.7)

Composite PMI: for June was 51.5 (prev 50.6)

US Factory Orders: (M/M) May: -0.7% (est -0.6%; prev R -1.2%)

Factory Orders Ex-Trans: (M/M) May: 0.1% (prev R 0.2%)

US Durable Goods Orders:

(M/M) May F: -1.3% (est -1.3%; prev -1.3%)
Durables Ex-Trans (M/M) May F: 0.4% (prev 0.3%)
Cap Goods Ship Nondef Ex-Air May F: 0.6% (prev 0.7%)
Cap Goods Orders Nondef Ex-Air May F: 0.5% (prev 0.4%)
Trade Wars and More
China scolds Britain over Hong Kong, warns Johnson over future ties
China scolded Britain on Wednesday for interfering in Hong Kong and warned the main contender vying to replace Prime Minister Theresa May that there would be consequences unless he stopped meddling in Chinese internal affairs.

"The UK government chose to stand on the wrong side: it has made inappropriate remarks not only to interfere in internal affairs of Hong Kong but also to back up the violent law-breakers," China's ambassador to London, Liu Xiaoming, said.

"I would like to reiterate that Hong Kong is China's special administrative region; it is not what it used to be under British colonial rule," Liu told reporters in English.

Johnson told Reuters on Wednesday that he backed the people of Hong Kong "every inch of the way" and cautioned China that the "one country, two systems" principle under which the territory has been governed since being handed back to China by Britain in 1997 should not be cast aside.
U.S. government staff told to treat Huawei as blacklisted
A senior U.S. official told the Commerce Department's enforcement staff this week that China's Huawei should still be treated as blacklisted, days after U.S. President Donald Trump sowed confusion with a vow to ease a ban on sales to the firm.

Trump surprised markets on Saturday by promising Chinese President Xi Jinping on the sidelines of the G20 summit in Japan that he would allow U.S. companies to sell products to Huawei Technologies Co Ltd.

In May, the company was added to the so-called Entity List, which bans American firms from selling to it without special permission, as punishment for actions against U.S. national security interests.
Stocks of Interest in the News
GS on TSLA

(Keep: Sell and 158 PT)
Aggregate deliveries for Tesla vehicles in 2Q19 came in 5% above our estimate and over 10% above consensus (both company-compiled and StreetAccount) as Model 3 deliveries surprised to the upside.
Further, the company noted positive progress on its logistics and delivery operations (driving some cost efficiencies and working capital improvements) as well as orders that exceeded deliveries for the quarter.
This is all positive newsflow in the near-term for TSLA and likely pushes shares higher in trading.
However, we continue to focus on the sustainability of demand for the company's products — particularly as we believe 2Q19 deliveries and order flow was helped by the company's release of its Standard Model 3 variant, a leasing option, and right-hand drive Model 3s, further, demand in the US was likely aided in 2Q19 by the looming second step in the phase out of US Federal Tax Incentives for TSLA vehicles that began on July 1.
As a result, we continue to expect some sequential stepdown in demand and ultimately deliveries as we progress into 3Q19. That said, the near-term focus will be on the full quarterly results that likely come toward the end of the month as the move to offering a lower priced Standard Model 3 variant as well as leasing option could have negative impacts on Model 3 program gross margins and FCF generation. In addition, while the company beat our estimates on absolute units, the mix was more heavily skewed toward the Model 3 (as Model S/X deliveries missed GSe by 17%); this negative mix likely weighs on our Automotive gross margin estimate of 20.6% for 2Q19Standard Model 3 variant as well as leasing option could have negative impacts on Model 3 program gross margins and FCF generation. In addition, while the company beat our estimates on absolute units, the mix was more heavily skewed toward the Model 3 (as Model S/X deliveries missed GSe by 17%); this negative mix likely weighs on our Automotive gross margin estimate of 20.6% for 2Q19Standard Model 3 variant as well as leasing option could have negative impacts on Model 3 program gross margins and FCF generation. In addition, while the company beat our estimates on absolute units, the mix was more heavily skewed toward the Model 3 (as Model S/X deliveries missed GSe by 17%); this negative mix likely weighs on our Automotive gross margin estimate of 20.6% for 2Q19
JPM on TSLA
We are raising our 2Q19 estimates (and full year 2019 slightly on flow-through) to reflect better than expected 2Q deliveries, but only maintain our 2020 estimates and December 2019 price target of $200 (and underperform)
The magnitude of 2Q loss and amount of FCF generated in the quarter will now be key to watch, particularly as we estimate the firm may have undertaken premium costs to meet delivery targets. The debate will also likely turn to sustainability of demand given that 2Q was, like 4Q18, a pre-buy quarter in the US ahead of another step-down in availability of federal tax credits on July 1.
Samantha Says
Jul. 3rd, 9:21 am

GM! Stocks, Bonds, Gold are expensive but Volatility is CHEAP! Noted yesterday in my trading room this detail and a large $VIX Ratio Calendar Call Spread – buying Aug $25 2x, Selling Oct $25 for .07. Cheap Insurance.
Jul. 3rd, 9:25 am

Gold… with global negative interest rates, Iran kicking up their uranium enrichment program and now Lagarde nominated to replace Draghi (uber Dove) and Shelton nominated for Fed (uber Dove), no wonder Gold is rallying!! But, so is the USD… With that, bullish (GLD) >$134, bearish below… and I still contend technically, GLD likely pulls back to $128 area and then launches again.
Jul. 3rd, 9:32 am

TSLA Beat on deliveries, but concerns about at what cost to meet those expectations. Chase long from 237 with 244 PT. (IF) Holds above 244 swing to 248-260.
Jul. 3rd, 9:35 am

K; UOA August Monthly 55 Calls ($1.45). Earnings 8/1. (This looks great and just starting! Highest probability Chase today.)
Jul. 3rd, 9:48 am

 MDB Dec 155 calls and July 160 Calls being bought. Hold above 155 for a swing long trade.
Jul. 3rd, 9:50 am

AVGO Gap filling down after new of acquisition of SYMC. (Funny how it hit trend-line exactly and pulling back to fill gap as discusses yday.)
Jul. 3rd, 10:06 am

Why is K popping? Spied UOA out of the gate in the Jul $55C at $1.45 now $2.10… So here's why: MarketWatch story: "Kellogg already owns the largest single "fake meat" operation in the country in MorningStar Farms" Inferring lots of untapped value + BYND contender. Also, Defense play (XLP) which is doubly nice.
Jul. 3rd, 10:21 am

 SPY; Rolling 296 calls (exp Fri), buying July 12th 300 Calls and selling August 303 calls.
Jul. 3rd, 10:25 am

: K; after the 55 August call buying they're now coming in for the 60 August Calls.
Jul. 3rd, 10:36 am

 CAT; breaking down after hitting resistance at 138 on weekly. Swing short to 133 (200D) PT. Stop at 137
Jul. 3rd, 10:40 am

: TSLA; someone not buying this gap higher – bought $2.3M in July 225 Puts (~4.50 per contract). (CHASE FADE)
Jul. 3rd, 10:53 am

: KPTI; Drug approval. Weekly Inverse H & S. Hold above 8 for long trade. Y-day someone came in and bought July 7.50 Calls for $1.
Jul. 3rd, 11:05 am

CGC; Co-CEO canned and stock was down 9% this morning (called out when hit Wk support) only to reverse and is now up 1%. That's a big reversal. Don't love this space, but bounced off TL and hold above 38.50 for long trade.
Jul. 3rd, 11:06 am

 BUD; continues to move higher. Lots of gaps on this name and almost better to watch weekly. Would like to see move back to 90 and then move up to 100, but may just keep heading higher.
Jul. 3rd, 11:55 am

Today, the top 3 trade chase ideas: K – from open w UOA and Price Action and Fundamental Support. I said "just starting" + it ran +7% w options exploding higher. KPTI just before the 36% ramp into the 200D and halt. Based on FDA approval. CGC called out as momentum play (had volume) off $36.47 Wk support on news co-CEO is out. Reversed 10% from lows! Now Swings with confirmation.
Jul. 3rd, 12:00 pm

 ROKU; bounced off that 87 area and has the makings of a H & S on daily. Needs to stay below 96, otherwise bullish. For short expecting 2 weeks of consolidation and then continuation lower – below 87 as discussed y-day- PT 75 and then 71
Jul. 3rd, 12:13 pm

That TSLA fade times perfectly w that $900K bet w the called out July $225P – then 4.50 now 5.55… PT 233/231
Wall Street Jane's Journal
Jane is not only Samantha's Live Trading Room moderator, she facilitates client engagement and relays Samantha's trade ideas into the LaDucTrading StockTwits Premium Room. A former banking VP during the GFC, she now actively trades full-time and actively shares her trading ideas, plan and process.
My bread and butter is to swing trade after a pullback to support or key moving averages. ADSK is a name I play frequently and has again served me well with my entry from June 27th.  I took a little heat on June 28th, but I stuck with the trade.  It has since rallied about $8 from my entry and my August monthly calls are up 62% as of close today. It's going to run in to the upper bollinger bands on the daily, but I am looking at the weekly and room it has to move higher in price as well as the expanding bollinger bands. I am anticipating a pullback to at least 170.50 and possibly back to support at 169. No earnings until August 22nd so I will be leaving this trade in place for now.
Great Reads
Not cool: An electrical engineer faces up to 219 years in federal prison after being found guilty of conspiring to smuggle military-grade semiconductor chips to China. 
On the flip side – Love is ageless: 100 and 102-year-old couple get married in Lucas County, "We fell in love with each other"