AAPL stock is poised to open down over 8% this morning – a decline that will wipe out over $55 billion off its market value due to a downturn in iPhone sales in China. This represents 15% of its sales and near 20% of Apple's revenue.
AAPL is now down over 38% from its 52-week high exactly three months ago today.
Interesting to note: Wall Street's 12 month price target for AAPL on November 1st was $236. Nearly 40 "Buy" ratings and NO sells. AAPL is trading at $143 in premarket.
NO Analyst Sells Nov 1st 2018
Well I'm a Strategic Technical Analyst and I sold. As you can see, I was up 1510% in profits on $AAPL that month at LaDucTrading:

Analyst Downgrades are coming in fast and furiously this morning.
Apple: Goldman Sachs Cuts PT To $140 From $182  $AAPL

Apple: Piper Jaffray Cuts PT To $187 From $222

and so on…
Apple's current drawdown of almost 40% compares to -33% in 2015-16 and -46% in 2012-13.
My price target from early November of $135 is still in play. The QQQs have 'only fallen' 23.5% peak to trough this year. My SPX target of $2277 has time.
And not to compare or dramatize, but I do want to present for Sentiment purposes:
Remember Nokia? Nov 2007. King Nokia was dethroned. And before that Palm Pilot, Motorola, Blackberry. My point is: AAPL was crowned King upon its $1 Trillion valuation (when I recommended shorting), so the question is: Can AAPL restore their empire's glory?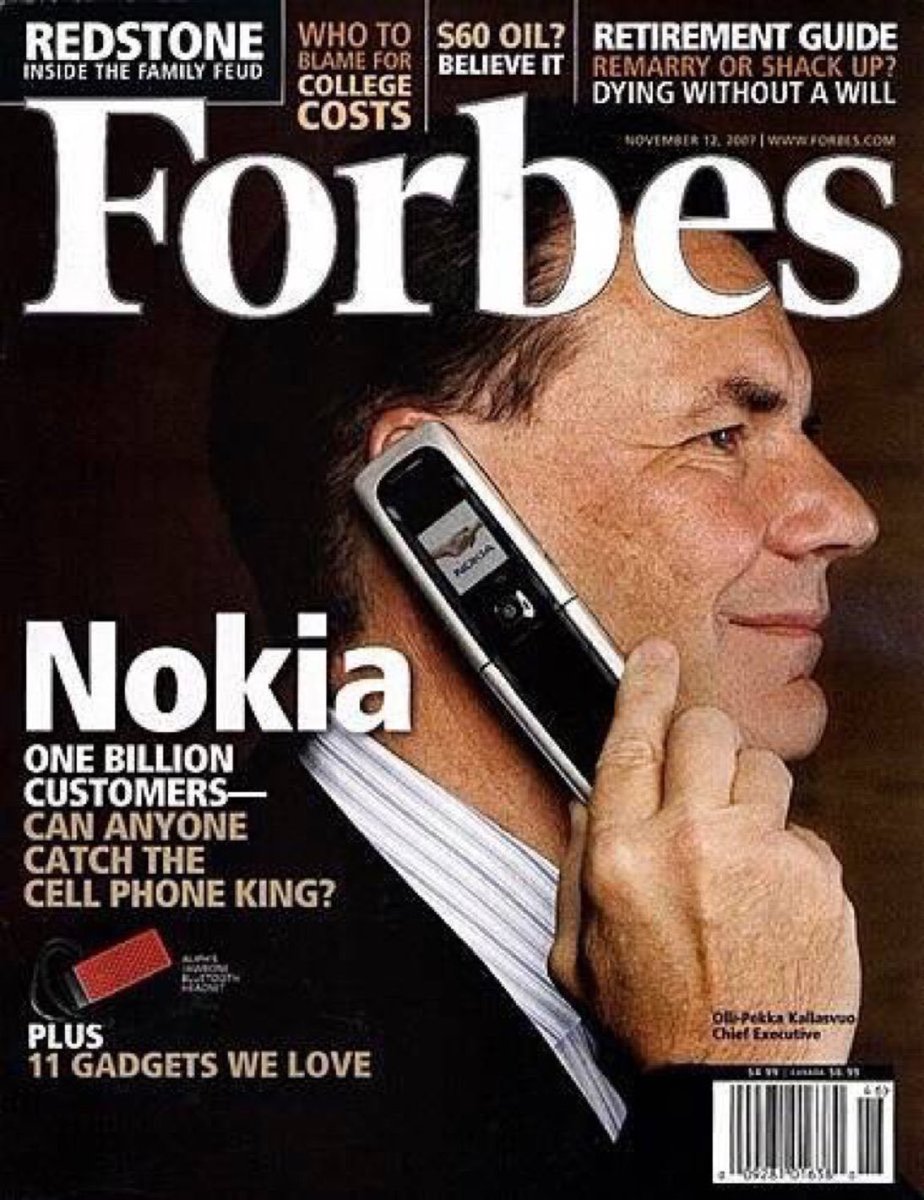 Best to hedge in the interim.
Thanks for reading and please consider joining me in the LIVE Trading Room where we work through Value and Momentum trade ideas and set ups every trading day.
---
At LaDucTrading, Samantha LaDuc leads the analysis, education and trading services. She analyzes price patterns and inter-market relationships across stocks, commodities, currencies and interest rates; develops macro investment themes to identify tactical trading opportunities; and employs strategic technical analysis to deliver high conviction stock, sector and market calls. Through LIVE portfolio-tracking, across multiple time-frames, we offer real-time Trade Alerts via SMS/email that frame the Thesis, Triggers, Time Frames, Trade Set-ups and Option Tactics. Samantha excels in chart pattern recognition, volatility insight with some big-picture macro perspective thrown in.

More Macro:  @SamanthaLaDuc  Macro-to-Micro: @LaDucTrading