Market Thoughts
There's a lot to unpack in the growing instability of the markets right now so I'm going to resort to equal parts summarizing with granularity.
Banks – All four Big Banks have reported – C, BAC, JPM, WFC  – and all delivered positive earnings surprises with an average EPS growth of 21% (for the group). Did any catch/keep a bid despite a 21% YOY EPS growth? Now I'm not going to unpack consumer biz from trading or loan growth or the like to defend bull or bear case for banks, as that's not what I do. I am going to comment on the obvious: Banks beat big but market ignored. Bond yields bounced (following strong CPI data out Friday) but banks didn't catch a decent or sustainable bid. I said in my trading room: "That's a Tell", a worrisome one. I also said I would stay away from playing banks through EPS and I'm glad I did.
Small Caps – I had a cheeky trade long IWM for a run to $158 trend-line resistance. Silly. I've repeatedly warned about how weak small caps are relative to SPX (see chart below). I've talked about how the safe trade is to wait to go long when SML price action is ABOVE its 50W. I've talked about how my Intermarket Analysis work portends a break of support (bottom panel) that goes back to 2011. I've talked about a gap-fill quite a ways down that WILL be filled. I've written and talked about how the weakness in small caps and transports (pulling down Industrials) are at critical inflection points, representing not only this year's weakest stocks but also a danger to the Bull's thesis of economic and market recovery.
The WSJ notes that while the S&P 500, Dow Industrials, and Nasdaq Composite all made new highs, the small-cap Russell 2000 has been lagging badly. Since 1979, this has only happened in January and April of 1999. @sentimentrader
I'm really going to take my own advice now.
NFLX – Another silly – for not playing – as NFLX reversed 7 months of gains in one evening. Ironically, I've been shorting NFLX based on both fundamental and technical reasons in the recent past and expected a poor EPS just from shear quantity of competition, customer complaints of diminishing content and general growth malaise… But I didn't play it directly much to my regret. I shorted DIS instead as I figured either way, DIS would get nicked. (ROKU would have been the better horse, however.) Anyway, for a great recap of their Earnings, check out @_SeanDavid as he does a great job. But @eddiemac3356 summed it up best:
When you've got a negative working capital deficit, gargantuan long-term liabilities, negative free cash flow, better capitalized oncoming competition that owns their content, and an outrageous valuation you better not miss subscriber numbers…
Volatility – At least THIS I got right. Not only did I close several profitable Chase long positions Tuesday, but I added VXX. And then I added more this morning. I have FIVE excellent shorting indicators – two I built myself, the others I interpret – and I smelled we are close. This was before NFLX. I have also half-jokingly said that "Gold and Silver are the new VIX!" Well, both moved in parabolic fashion of late and due a pause. My point: Pretty clear that bonds and precious metals/miners smell Volatility to.
The positions I left open were primarily green today: SLV, CGC, NVDA. Lucky? Nah, I was going with 'oversold' thesis so they go 'down less' when market pulls back. I spied the SLV trade last Thursday and mentioned it had yet to catch up to GLD. Oversold Pot and select Semi plays looked ready to bounce. So really, we can move higher or lower and I will trade what I see for rotation plays, but I will admit I am unconvinced this is "THE top" let along "A top". I have 'feelings' but I NEED confirmation. With that, I have not moved into Big Bear territory to start really positioning short. I have interest in MSFT short …. yes, the Godzilla of Tech… but I will put on a Sept financed put spread sprinkled with Aug puts as I do not think MSFT is ready to really roll, like NFLX just did. I am more inclined to see MSFT as a 'buy the rumor, sell the JEDI contract", which should be announced within the month. Wait, so we have FOMC, Debt Ceiling and MSFT/AMZN $10B cloud business announcement same time? Nature can be cruel.
Earnings – Thus far the few that have reported have beaten on the bottom line (low bar so not hard) but failed miserably on the top. Like 70% – have failed the top line. It's usually the other way around: 70% beat!! Just a theme I am spying with not a lot of data yet but signifies that stock picking matters. Speaking of data, we are going to get a lot of it:
Macro Matters
Speaking of Earnings, John Authers of Bloomberg penned a nice piece: Lower Earnings, Lower Rates and Lower Multiples. Here are my fave take-aways:
Investment managers have lapsed into a bearishness and pessimism that have not been seen since the financial crisis. That was the conclusion of the latest Bank of America Merrill Lynch monthly survey of fund managers, while Absolute Strategy Research's Multi-Asset Survey, which polls fund managers on their perceived probabilities of different outcomes, also suggests that investors are worried. Indeed, their predictions imply terrible problems for equities ahead. Only a minority believes that corporate earnings will rise over the next year, the most bearish outcome since the survey started:
So, if we combine lower earnings with lower earnings multiples, it is only logical to expect lower share prices. Indeed, confidence that stocks will outperform bonds over the next year has dropped to its lowest in five years. John Authers
And that's why I'm scanning both price and people to see if good news in earnings and in the economy turns to sentiment. But I haven't seen it yet. Institutional investors seem convinced to stay out of the market and/or buy the safe haven plays of bonds, gold and USD. If they are right, rate cuts from the Fed will not help much.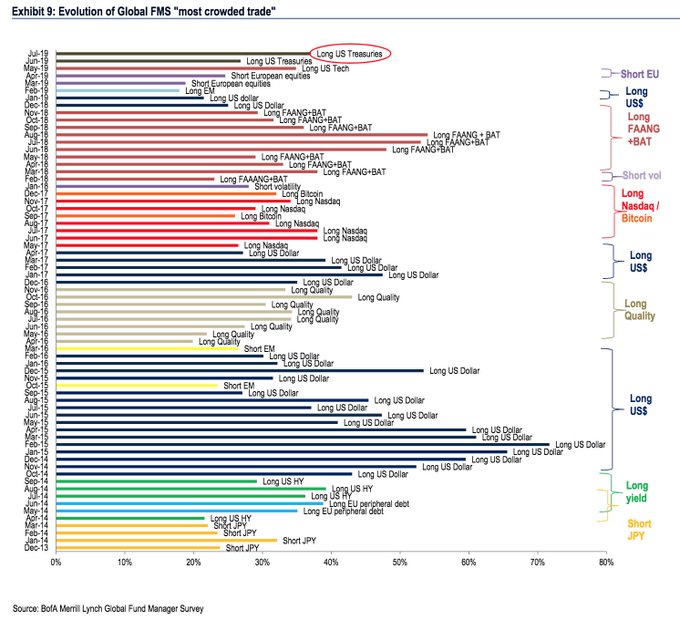 But there are some buyers who see these current market prices as opportunity…
Retail is coming back into the market!
$62 billion — That was how much retail money flowed into exchange traded funds for June, marking the highest monthly inflows since January 2018, and reverses outflows of $14 billion in May, according to Jefferies.
We shall see if one month can turn into a trend.
Reducing BuyBacks is another sentiment change.
Record share of investors worry buybacks, dividends are too generous – MarketWatch
"The rising concern over buybacks coincides with a sharp decline in announced buybacks so far this year."  
And why does this matter? As earning growth slows down, so will buybacks! 
Upcoming Market-Moving Macro Calendar
24th July: Mueller testifies before the House
24th July: flash PMIs for July
25th July: ECB decision
26th of July: US Q2 GDP
30th July: US PCE for June
31st July: China PMI
31st July FOMC meeting decision
Economic Data
Housing Starts & Building Permits
Construction of new houses fell slightly in June and permits sank to the lowest level in two years, suggesting a sluggish U.S. housing market has failed to gain much momentum from lower mortgage rates.

Housing starts slipped 0.9% to an annual pace of 1.25 million last month. That's how many homes would be built in 2019 if construction took place at same rate over the entire year as it did in June.
Foreign purchases of American homes falls 36%, as Chinese buyers flee the market
Challenging conditions in the U.S. housing market, along with tighter currency controls by the Chinese government, caused a stunning drop in foreign demand for American homes.

The dollar volume of homes purchased by foreign buyers from April 2018 through March 2019 dropped 36% from the previous year, according to the National Association of Realtors. The decline was due to a drop in the number and average price of purchases. Foreigners bought 183,100 properties with a total value of about $77.9 billion, down from 266,800 valued at $121 billion in the previous period.

They paid a median price of $280,600, which is higher than the median for all existing homebuyers ($259,600), but it was down from $290,400 the previous year.
Trade Wars and More
Japanese official says negotiators working hard on U.S.-Japan trade deal
U.S. and Japanese officials are working hard to reach agreement on a bilateral trade agreement, a senior Japanese official told Reuters on Wednesday, adding he was looking forward to news on the deal in the near future.

Three industry sources told Reuters on Tuesday that the United States and Japan were working on a small trade deal involving agriculture and autos that could be agreed by President Donald Trump and Prime Minister Shinzo Abe when they meet in New York in September.
IMF Warns Rising Trade-War Risk is Weighing on Global Economy
The imbalances that lie behind trade tensions are now concentrated in rich countries, and tariffs aren't doing much to fix them, the International Monetary Fund said.

China, which a decade ago was running the world's biggest current-account surplus, is now close to balanced trade that's "in line with the fundamentals,'' the IMF said in its annual study of how economies interact with each other. The largest surpluses and deficits are now mostly found in developed countries like Germany and the U.S.
---
Samantha Says
Jul. 17th, 7:31 am

Important: Crude at $58 and XLE at $62…needs to hold … and then I think they could be Nice Swing Longs rest of summer. VLO, MPC, HFC etc
Jul. 17th, 7:40 am

Sold WYNN yday for 300% chase but will likely enter again today for a Swing, this time with a Call Spread, as it may take time to get over $141. Since WYNN derives 73% of its revenue from Macau, it is high risk in a trade war fight. Sold my X Swing call spread for 60% on Trump Tweet of more Tariffs . It was to be a 1:5 R:R so lotsa profit potential left in that CS Trade. I will try to hold longer this time.
Jul. 17th, 7:42 am

If you read my daily posted last night, then you know I am bullish but with every trade I expect to be wrong in this current environment leading up into FOMC where I think Fed will disappoint markets same time the debt ceiling showdown takes place. And I fully expect headline risk – Iran, China, other – from Trump as he manipulates market drama to incite the Fed to act. Fully Expect.
Jul. 17th, 7:44 am

I picked the wrong horse: Remember I mentioned QCOM as one of three semi ideas long on the Huawei Truce . I sized up SMH plays on support (versus those w recent monster runs like MU) and choose NVDA instead (of QCOM which gained 5% on news). #Trading
Jul. 17th, 7:48 am

Btw, Banks are beating handily but not catching a bid. That's very telling.
Jul. 17th, 9:23 am

CSX; taking it on the chin today, but might get defended to 75-80. Watching rails.
Jul. 17th, 9:28 am DPZ; below 250 as discussed y-day, but looking for a bounce at 240 and then fail from there 
Just priced the $DPZ option tactics I gave pre-EPS: From least to most profitable: Directional: JULY 19 $240P: for a double AUG 16 $250P: for a triple And my FAVE OPTION TACTIC for Trend Plays and sometimes EPS: >>>Financed spreads: Here's what I gave in my live trading room: JULY $250X260PS w SOLD $290C: 10 bagger (AUG financed put spread: 6 bagger)
Jul. 17th, 9:40 am

 EBAY; news they are selling StubHub. Moving higher and if it breaks above 41 it could run.
Jul. 17th, 10:05 am  

WYNN; pulling back as expected. Hold above 136 for a move higher and break of 139.25 and then a run to 145.
Jul. 17th, 3:47 pm

Market is getting unstable. That's my only way to put it. A feel for now but Careful. I have covered some longs like BABA, stopped out of FDX (for now) and opened a few VXX positions plus added shorts in DIS ORCL. Maybe bad timing w NFLX IBM URI reporting tonight but SLV GLD TLT VIX each a bit too happy given the muted price action in the indices. A bit too happy…
Jul. 17th, 3:49 pm Remember EOLS… Last wk stalked at low of $13 (trend-line support), said buy > $15.90 just tagged 18 … PT in time, $19 then 20.40
Jul. 17th, 4:29 pm

Great Question. I am short DIS on a NFLX miss but did not expect this BIG a NFLX miss. I mean by HALF their subscribers!! This will mean questioning other models – like ROKU and DIS in particular – but DIS has huge moat. ROKU, not so much. They are a 'future NFLX' with extreme valuation that dwarfs NFLX! I will do just ok on my DIS short but picked wrong horse – ROKU back to $100
Wall Street Jane's Journal
Jane is not only Samantha's Live Trading Room moderator, she facilitates client engagement and relays Samantha's trade ideas into the LaDucTrading StockTwits Premium Room. A former banking VP during the GFC, she now trades full-time and actively shares her trading ideas, plan and process.
Samantha put $STZ on my radar last week and I took a position on the initial breakout above $200. It then pulled back in and has continued its consolidation. There are now squeezes on multiple timeframes, which portends the possibility of a larger than expected move. Sticking with it.
As of close today:
Great Reads
Where there's a will, there's a way: Italy hunts bear after 'genius' escape over electric fences
Great Listen

 
If you want to understand: Trumpism, Brexit, Gilet Jaune, and ISIS – all of which are the same movement that ends in nihilism @mgurri