My job is to identify Inflection Points, and then to 'operationalize' them so as to call out actionable trades for clients. Last week was an exceptional week of Market Timing Calls – from my Bond Short Call the day before a 3-sigma standard deviation move in Rates/Bonds, to my Short Gold Call the day before the parabola broke. But I am most proud of my ability to see and trade the Growth-into-Value Rotation that I saw coming before 'Monday's Momentum Massacre'.
'One Of The More Stunning Trades In Modern Market History'
This is what Nomura's McElligott said after Monday's Momentum Massacre. That translated into a truly insane 8.5-sigma event for the "Pain Trade".
(Nomura, BBG)
"The shock of yesterday's US Equities factor reversals will go down in infamy alongside the August 2007 'Quant Quake' and the Fed/March/April 2016 'Market-Neutral Unwind' as one of the more stunning trades in modern market history", McElligott writes
And yet HILARIOUSLY, nobody watching financial TV or Joe Schmoe retail investor looking at just simple Index returns in isolation (or even a more sophisticated investor looking at the Vol complex yday) would have had ANY idea of the calamity occurring under the surface, as it was all about a blowout in sector- and thematic- dispersion which then acted to offset / "mask" the "top down" moves.
The catalyst? The selloff in duration from the prior week. Yeah, the Short Bond call I made turned out to be not only well-timed but the impetus for an unwind in treasuries that caused the sell-off in Momentum stocks which I also called and which turned out to be the second-largest single-session draw-down in history going back to 1984:
Forward returns for this Momentum Index are "horrific" according to McElligott…
But, forward returns for the Value proxy are awesome following a one-day (99.5th percentile) surge like that which we had Monday: +27.1% median return in six months and +83.3% return in 12 months.
More Geeky Reading: Massive Momentum Factor Unwind Triggers 'Epic' 7 Z-Score Performance Bleed
---
My Growth-To-Value Rotation Call
My Short Bond Call was nothing short of Historic. As of Friday last week:
'And rough calculations on selling in bonds was estimates at just over $100bn in 10yr Treasurys equivalents. That is a monster move. We've seen a 20bp move in the last 4 days alone in US 30y yields. That's a $1.8bn PNL swing" @MacroMorning
You have no doubt checked that Bonds continue their historic sell-off as of this writing a week later.
Clients in my Live Trading Room and Trade Alerts and Newsletter services know I was positioned in TLT short PRIOR to September 5th, the largest 1-day percentage change in the 10yr since the 2016 election. They also know I was positioning long in oversold value plays since before that. In fact, I had a call that day with a new client – a financial advisor from Stifel – where I said my focus was on building up a basket of Value plays for the coming rotation out of Overbought Momentum. He joked MLPs were oversold but I said they don't offer much value until Trump stops discouraging Oil Investment every time he grants Iran waivers. But I digress.
Last week I began entering best-of-breed oversold-value plays. Not the left-for-dead, circle-the-drain, or dash-for-trash "value" plays with poor or non-existent options markets (although I saw that these groups were also popping up like daisies). My focus was on the many solid companies (within XRT, XME, IYT, IBB for example), that had been pummeled and shorted mercilessly while Unicorns flew (MTUM, IGV, FFTY sectors). Instead of chasing MDB, VEEV, WDAY et al like so many, I started going long oversold Cloud Plays CLDR + NTNX, oversold Retailers M, JWN, LB and a smattering of others like WBA, GILD, X and even GME. This is nothing compared to the trade set ups I called out in my Live Trading Room and analyzed for clients. I especially liked and recommended the heavily shorted plays in: THC, OSTK, UCTT, AAOI, HOG, FCX. KHC, MOS, RAD. I reviewed these charts daily for clients. The short-covering in these names, not to mention many others, was historic.
---
You can follow my actual trades here:
---
Each day in these past two weeks I looked for confirmation that this wave of Value Buying was contained  'madness', watching if the mood might change, but I determined that market participants were constantly sizing up and the rotation was sustainable. I pressed long Value. I gave custom analysis to clients with profit/loss price targets and option tactics based on the underlying and worried that the sell-off in Gold and Bonds would intensify so pressed these short.
Needless to say, we did well! I was positioned for Monday's Momentum Massacre as were those clients who followed me. 
I kept referring to my Roadmap as laid out in my Top Themes from my weekend client newsletter that proved prescient:
Transports relative to SPY would be good fishing
Growth Rotation into Value Plays
Miners Shortable
Small caps *may* surprise to the upside
This was in follow up to my publicly made available Market Thoughts: The Week Ahead September 9 – 13 
"I am long the consumer as an oversold, bottom-fishing, 'value' play." 
I even tweeted publicly what I saw pre-market Friday 9:19 AM · Sep 6, 2019:
And then again for emphasis:
11:28 AM · Sep 9, 2019: I will repeat: Does anyone else notice how oversold, bottom-fishing, 'value' plays have been popping up like daisies recently? #ValueGrowthRotation

4:12 PM · Sep 9, 2019 Girls and Boys, that's what you call ROTATION:  $IGV into anything oversold.

11:20 PM · Sep 9, 2019 This Panic Rotation into Value today w Sell-Off of $IGV/Unicorns has me wondering if we need to check in on P.E. Firms to see if all is ok Cuz the timing of this coordinated selling in Growth, just after Bonds reversed sharply last wk, smacks of, ok, I'll say it: REFLATION TRADE
Morgan Stanley's long/short U.S. equity momentum pair trade index with its biggest one-day decline since 2009. H/T @LJKawa and @MichaelSedacca
Of

$MTUM

's constituents, more than 3 down for every one that's up.

Of

$VLUE

's constituents, roughly five up for every one that's down.
Quant Color from Monday's Momentum Massacre
Kolanovic: What Just Happened "Has Only Occurred On Two Days In History" – short covering in the "Most Shorted Stocks" that sparked a ~5 standard deviation rally of value vs. momentum Monday and Tuesday can sustain a rally in value for some time.
Here Is The Most Remarkable Thing About The Historic Quant Crash – outlines the contrasting data that leads JPMorgan's quants to believe this move is sustainable but Morgan Stanley's quants think this is a violent quant reversal and is almost over.
I have my own ideas and as such will provide my insights and trade set-ups to clients privately. There is no better time to join!
Something Smelled Fishy
If you have been to my website, you know my Fishing Theme. You also know I don't come from Wall Street. I'm a self-proclaimed Pattern Recognition and Volatility Expert, a Macro-to-Micro Analyst and Trader. No one taught me or gave me a job to do this. I just figured out what I love to do and I'm good at what I love. But one thing I'm not and that's a Quant! So I rely much more on my ability to scan and synthesize data and connect them into a narrative that makes sense to me. Basically, to time inflection points, I use my farm-girl instincts combined with nuanced analytical skills ACROSS disciplines – Macro, Intermarket, Fundamental, Sentiment and Technical – versus focusing on just one area. I'm known for my ability to make historic market timing calls. And it's fair to say my track record has been quite historic. 
With that backgrounder, I thought it might interest you to see a bit inside my head – scary as that sounds – for a tactical play-by-play overview of sorts in how I captured the flow of market activity without Quant data and was still able to anticipate and position for the waves of buying and selling occurring in the market the last few weeks. 
---
Latest Client Newsletters
---
One point I have been making since we reached "Cruising Altitude" post Christmas Eve Massacre (a rally I predicted and anticipated) is that markets seem to be in Distribution mode. Clients and Colleagues know I have deemed this grind higher in the indices past few months as a SOLD-TO-YOU RALLY. When this traditionally happens, there can suddenly appear pockets of FORCED SELLING, typically in LEADERS and typically they ROLL from sector to sector.That's what happened. That's what I smelled. 
I watch the leaders, very carefully. I noted aggressive, simultaneous Profit Taking in

AMT

and

SBAC

last Thurs (big Telecom Tells), after anticipating ULTA's earnings miss the week before that (VIP consumer player). I was waiting for the 'fall from grace'; ULTAs 33% historic stock drop post EPS removed it's ranking as Top 5 highest-performing stocks since 2009.

I noted aggressive Profit Taking in

AYX,

PAYC (popular Unicorns) pre-market Mon (on no news) and warned clients in my Trading Room that was a Tell

IGV

sector would be under pressure of distribution.

We even caught the exodus from the Big Consumer/Restaurant darlings

MCD,

SBUX

and

CMG

Tuesday morning as further proof of distribution rippled violently through these "Hedge Fund Hotels' as selling moved methodically through sectors, under the surface of the seemingly-calm market above.

The Rotation into Oversold Value sectors mid-week last week in

$XRT

and

$XME

was so clear to me while Bonds, Gold/SIlver, Miners went no-bid. 

The fact IWM, IWC, IWN were rallying hardest this week made perfect sense to me (and wrote about in my client newsletter), since SO many small caps had been strong underperformers compared to Big Tech and Big Cap.Again, divergences matter.
Also, this chart was on my mind: The last time large cap US stocks had a monthly close below major support vs. long duration bonds was Nov '07. H/T @BittelJulien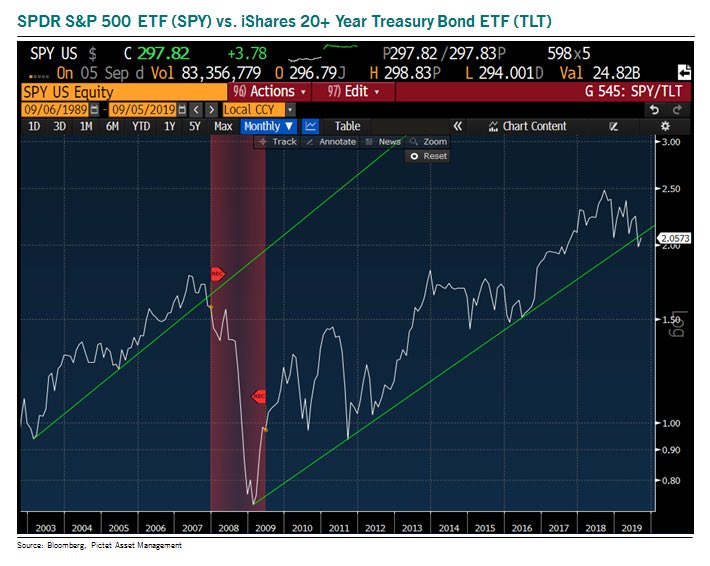 By association, I knew small caps and value were the likely recipients of large cap weakness and rotation.
And interestingly enough, by Tuesday September 10th, CTA margin calls had resulted in 4 months of Momentum Portfolio profits erased.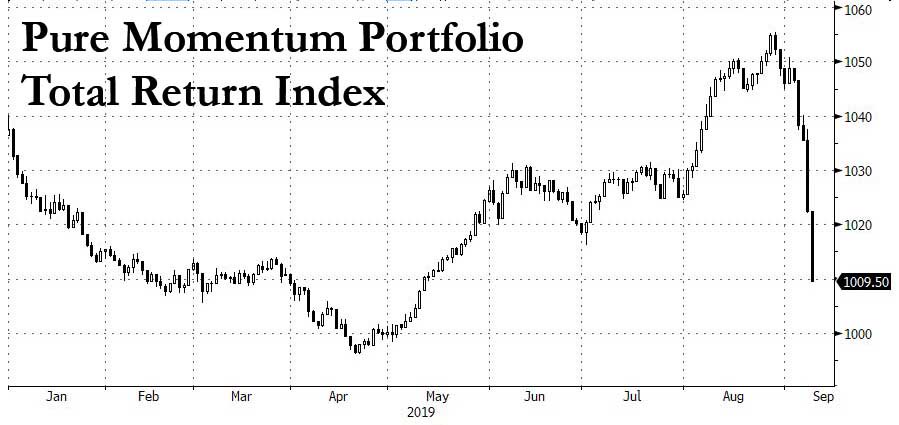 As of today/Friday, buyers still haven't stepped up: For momentum stocks or bonds or gold.
HISTORIC!
---
Want to know what I see next? Don't wait for the occasional free bait or tweet. Come fishing with me! I have products for Retail and Institutions.
To Good Fishing!