I couldn't make my Market Timing Calls for Clients without the Intermarket Analysis work that I do – which is beyond the Macro, Fundamental, Sentiment and Technical Analysis I provide.
Here's a cute-ish play-by-play on why and how I use Intermarket Analysis to time actionable trade ideas for clients:
Wrote September 5th: Small caps may surprise to the upside: 
Then I shorted IWM and showed clients why:
And, Here We Are:
There is A LOT MORE in these Chart Packs, but I wanted to give you a flavor. To get the whole meal, set sail with me.
Just Published – Intermarket Chart Attack: New Month New Risk
---
---
Can Fed Cuts Save US From Economic Recession?
Today markets turned red intraday – not on higher USD (although DXY had broken above highs set two years ago) or on the surge in 10 -yr yields (from BOJ steepening their yield curve). In the past, either of these Macro events would have caused a pause in market's advance but we have the New-Not-Normal times.
We have a sea change in the world of central banking in that after 20 years of trying to suppress rates, the BoJ now wants higher LT rates in order to save its banking system. A day after cutting its QE plans, their 10 yr JGB auction overnight was the worst since 2016. Peter Boockvar, @pboockvar
Not only was this BOJ announcement a big deal, but the BOJ announced cutting short-term rates and orchestrating long-term rates higher to help their banks … on the same day they implement their new sales tax! I tweeted and discussed in my Live Trading Room that is was the reason why our treasuries were selling off with the JGBs.
Fast forward a few hours and at 10AM ET the 10-yr yield which had been up 3.13% when I had last checked (a big move in and of itself) had reversed and gapped down hard – eventually down 3%. I knew why – PMI – and was not shy to call out "Seatbelts!" so clients would have time to close/tighten stops on longs or reverse short. I had also noted near the open that HYG and JNK had broken down – even before ISM and before Oil dropped – so they were my Tell we had trouble brewing and volatility soon to emerge.
Even later when it seemed markets were stabilizing I was convinced we would see Volatility move higher in the day and markets sell off into the close. Case in point: The Russell / RTY dropped -3.2% in 4 hours. This is the benefit of having a live trading room and ability to interpret macro data into micro trade set ups.
Big ISM Surprise
We had a big negative surprise in manufacturing data with the release of the September ISM Manufacturing index. It registered a print that was lowest in ten years, representing more proof of contraction in the manufacturing sector.
Lawrence McDonald had a good reminder:
Don't forget there is a chunk of the asset management industry that will, by mandate take down US equity exposure with a sub 50 ISM. + There's a decent body of historical evidence which points to an ugly earnings quarter, post a sub 50 print.
And there is this 'small' matter of a 9-month rolling % change that demonstrates a large divergence between actual manufacturing number and price in the S&P.
The U.S. isn't the only one experiencing contraction:
Here's a summary courtesy @chigrl of Global Manufacturing PMI's that were released before ours:
EZ ⬇️ 45.7 v 47.0
Germany ⬇️ 41.7 v 43.5
Italy ⬇️ 47.8 v 48.7
France ⬇️ 50.1 v 51.1
Spain ⬇️ 47.7 v 48.8
Sweden ⬇️ 46.3 v 51.8
Greece ⬇️ 53.6 v 54.9
Poland ⬇️ 47.8 v 48.8
Russia ⬇️ 46.3 v 49.1
Czech Rep ↔️ 44.9
Netherlands ↔️ 51.6
UK ⬆️ 48.3 v 47.4
Japan ⬇️ 48.9 v 49.3
S.Korea ⬇️ 48.0 v 49.0
Taiwan ⬆️ 50.0 v 47.9
Vietnam ⬇️ 50.5 v 51.4
Philippines ⬇️ 51.8 v 51.9
India ↔️ 51.4
Indonesia ⬆️ 49.1 v 49.0
Malaysia ⬆️ 47.9 v 47.4
Thailand ⬆️ 50.6 v 50.0
ASEAN ⬆️ 49.1 v 48.9
US export orders are also declining at the fastest pace since the recession – courtesy (((The Daily Shot))) @SoberLook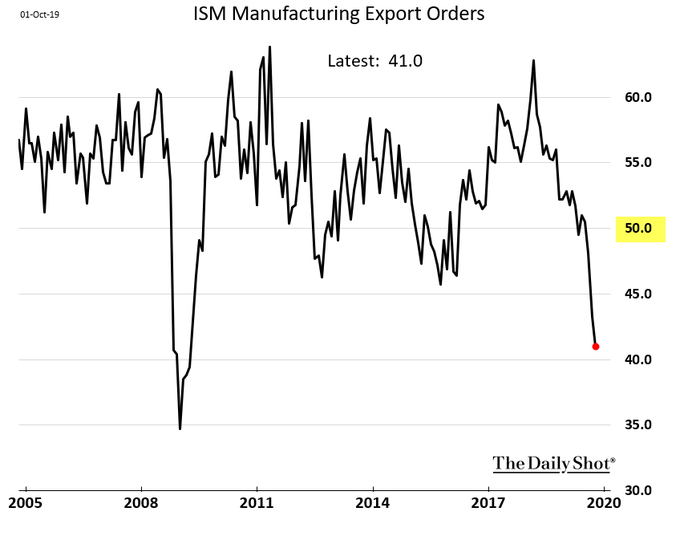 And if this FX Index compiling 23 currencies is any indication, we have further to drop: Courtesy @RemiGMI
Trump tweeted post ISM blaming the higher USD and slowing manufacturing on Powell and the Fed for too-tight policies, with no mention of the uncertainty and margin contraction created by his over year-long Trade War and Tariffs.
Here's how @IanShepherdson framed his note today:
"If consumers' confidence seriously falters, the U.S. could tip into the first recession ever caused directly by the actions of the President rather than the action of tight monetary policy on an overstretched private sector."
---
Risk Ranges
Below $2937 is Risk Off:
"A look at US Equities index/ETF options positioning shows us that dynamics are tilting, with $Delta- and $Gamma- for both SPX/SPY and QQQ now 'negative'", Nomura's Charlie McElligott warned on Monday. That opens the door to "sloppy" price action and it's also worth mentioning that as of yesterday morning, the trigger level for CTA deleveraging on Charlie's QIS model was 2,937
Also according to Nomura (from yesterday): courtesy @themarketear
And this right before Earnings Season kicks into gear, which by the way although S&P earnings estimates have been lowered in a big way, Morgan Stanley still thinks they are 10% too high!
Free Trades! Yeah, Right.
Schwab was in the news today as they announced "Free Commissions" that caused the sector to nose-dive! Well, I wanted to make you aware of the 'fine print'.
Schwab's 2Q19 Rule 606 Order Routing report to find out where all those free trades will most likely be executed. Do you know who these companies are?
High Frequency Traders who are adept at parting traders from their money AND charging them for the 'privilege'.

This is one reason I have my Brokerage-Triggered Trade Alerts with Interactive Brokers! 
China Concerns Continue
Yes, the CCP is celebrating 70 years of country domination and prosperity, while US wealth managers are wondering if Trump would follow through with his threat to prevent US Investments in Chinese companies, including but not limited to delisting Chinese stocks. Here's my short-form view:
👇THIS narrative to stop US Investment in Chinese stocks (at a min) will grow louder as Trade War escalates. The call to delist China stocks in US will trigger a Capital War.

Even though WH talked this back, The Risk to markets will not go away.$EEM $MSCI $FXI$TCHEY $BABA $JD https://t.co/rXGl8PWIo9

— Samantha LaDuc (@SamanthaLaDuc) October 1, 2019
Here's my long-form view as written about in a Seeking Alpha article on June 19th of this year, I alerted to the threat of US blocking US Investments in China…
And here are some others signaling caution:
Major US fund managers have billions of dollars at stake in some of the most popular Chinese stocks, exposing them to potential losses should the White House move to delist Chinese firms from US exchanges. "The proposed measures would completely undermine the international market and would harm the US's role as a conduit for international capital," Jefferies equity strategist Sean Darby wrote in a client note.
Ray Dalio offered his take on China. The billionaire said early talks of limiting U.S. investments in the Asian nation make him wonder if the White House is "inching toward bigger moves." In an essay on LinkedIn, the Bridgewater founder wrote: "the ability of the U.S. president to unilaterally cut off capital flows to China and also freeze payments on the debts owed to China, and also use sanctions to inhibit non-American financial transactions with China must be considered as possibilities."
---
---
I have already placed trades on China. You can follow my actual trades here:
---
---
An Invitation for Active Traders and Investors:
Come Learn how Jerremy Newsome at Real Life Trading and I interpret and trade market-moving news on multiple timeframes, using options!
Macro-To-Micro Power Hour
Wednesday Oct 2nd at 6PM CT