Greetings Fellow Traders, Clients and Friends:
I am back from my two-week European adventure with my daughters and am working to catch up so I can digest the Macro and drill down to the Micro.
As of December 28, as I was flying stateside, the S&P 500 lost 15.7% in 14 trading days – so for anyone just looking in, the first question that begs asking is:
So where the hell is Santa?
The short answer is: depends on your timeframe. The epitomous Santa Rally is based on the last 5 days of December and first three days of January. It's not a "Sure Thing" but it sure is close and here's why:
The Santa Rally, as I have come to think of it, is really just Pension Rebalancing post year-end Tax Selling – and
they "all" do it at the same time
so why not plan for it? In fact, Goldman said $110 B of equities were expected to be bought in re-balancing – which was the largest number since they started this dataset in 2001. And with that, guess what happened after I sent my "expect a bounce" client note Dec 20th: 
Is Santa really D.O.A.?
"December 26th, the S&P 500 rallied more than 2.2% between 2:45 pm and the 4:00 pm close. The next day, the rally started at 2:15 and added almost 4%. Basically, the S&P 500 gained around 6% in about 3 hours of trading." 

@TFMkts
Dow: +1086 (largest point gain in history). +4.98% (largest % gain since Mar '09).
S&P 500: +116 (largest point gain in history). +4.96% (largest % gain since Mar '09).
Nasdaq 100: +363 (2nd largest point gain in history). +6.16% (largest % gain since Mar '09).
Also prominent with end-of-year tax-selling is the usual Insider Buying that follows just after the selling, but this year, it was a bit more robust than usual:
Insider Stock Buying Surges to 8-Year High

"The last time insider buying spiked in this fashion, in August 2011, S&P 500 was in the middle of a 19 percent retreat before staging a 10 percent rally in each of next two quarters."
Also on Friday the 28th, more calls were bought than at any time in 2018. H/T
@mcm_ct
We had our 20% "market correction", so can we bounce now?
It's true: we officially had our 20% drop – and for the first time since 2008. The high of Oct 3 was 2940.91 (
when I shouted loudly to go short
) so 20% is 2352.32 and market closed at its low December 24th of $2351.
Here's how eventful the holiday was for those who might have stepped away:
Monday, Christmas Eve, the S&P 500 plunged to its lowest close in 20 months.
On Tuesday, the market was closed for Christmas.
Then on Wednesday, the S&P 500 had its best day in seven years.
Thursday staged a frenetic turnaround from weak to uber-strong, giving us back-to-back gains for the first time in months.
Bear markets often have false rallies, and many of the best days in market history have come during bear markets, but we were grossly oversold enough to have a counter-trend bounce of size. And my chart captures done after market close Dec 20th screamed "time for a violent bounce"! But this short-term market timing call does not negate my big picture read that charts look LOWER into Q1.
I see support for $USDJPY  at $108 and $SPX $2277 has some support before ~$2135. Samantha LaDuc, 12/31/18
Let's go back before we go forward. Here is my post from October 15th with my Intermarket Charts for your reference… Gone Fishing Newsletter: Where do we go from here?  Clients/Followers know how bearish I was – in and out of my Live Trading Room.
And here are the highlights (low-lights actually) from December 21 chart review – the opposite condition: way oversold! In fact, prior to my Intermarket Analysis December 21, we had the worst week for SPX and NDX (down 7.98%) since the Euro crisis in August 2011, and the worst three weeks since the 2008 crisis saw VIX hit its highest level since February. Not to mention AMZN having its worst week since Nov 2008…
---
Intermarket Chart Analysis
I was excited to see this grossly oversold SPY ROC (rate-of-change) chart. This is a long long just on the probability of this extreme oversold Reading bouncing.
The bulls are really on holiday judging from this percentile bullish chart. But I think Santa, cash on sidelines, stock buybacks, EOY rebalancing and sharks waiting for a RYFO (rip your face-off) rally will buy this blood soon.
The "reflation trade" was announced Dead On Arrival when crude cascaded down from $77 through $71 support … then $66, $62, 57, $53, $50 now $46.. Clearly this chart telegraphed the severity of the break when both the DBC broke trendline support and HYG:IEF broke its 200D. Is it but an overshoot to shake out the commodity longs? It's only bullish in my eyes once DBC jumps the shark above $16.
All Gaps Filled since Trump was elected. Yes that means Perception Met Reality and reality won.
Intraday buying has not yet appeared to convince me the intraday drop is down.
Unless this is a double bottom – Analog 2016 – then Nasdaq likely falls further (especially given the morning star reversal candle pattern, gap and size of expansion bar).
---
Year End: We Need A Fresh Start
Powell vigorously defending the Feds continued QT path, which takes liquidity out of the system and freaks out market participants, was clearly the trigger causing the recent Christmas Swoon, but I also expected a Santa Rally (last 5 days of Dec and first 3 of January) for reasons outlined above. Big Question on the minds of most: will Fed pause in the New Year. The odds are split pretty evenly. My two cents: they won't.
Further, if we don't bounce for Santa and Seasonality, it's further proof markets are fragile. If we don't bounce decisively on these Intermarket oversold levels, it's further proof markets are fragile.
Regardless, even if we bounce, here are my Q1 issues and justification for those price levels lower – after a bounce:
1. If political instability continues (or Trump keeps intonating he'll 'fire' Powell), we will have direct pressure on the USD
Political pressure on the USD was the precursor to the 1987 crash. And you have never seen me talk or write about this before because I am not big on analogs. But this I see rhyming and more to the point, I do believe that price not based on fundamentals will eventually revert, and revert violently.
US said it would force the dollar down one day before Black Monday: "On Sunday October 18th 1987 (the day before the Black Monday crash) the then Treasury Secretary James Baker tried to force resolution by the telling the Germans he would collapse the Dollar if they did not agree to fall in line."

@EdMatts
"During all this disaster dollar should be backing off. Illiquidity/dollar shortage is what is pushing dollar higher, not confidence. This can't last. When they give in and improve liquidity dollar is screwed. Mass Exodus, violent inflation spike." 

Allbullnobear
2. Kevin Muir sums up a key consideration for continued selling of equities: 
3. Another issue is liquidity. 
If volume on down days continues – like Dec 21 which had the greatest volume in the SPY in two years – it's evidence markets are still not oversold enough.
Chris Cole, Artemis Capital Management LP, July 2018: "The medium is liquidity — and it is vanishing — THAT is the systemic risk"
Here is a connection I found that could account for Blackstone's 35% drop this year, speaking of liquidity:
Reuters : "Investors are bailing out of mutual funds as if it were 2008. Mutual funds suffered redemptions of $56.2 billion in the wk ended Dec. 19. That's the biggest outflow since the week ended Oct. 15, 2008
And
Schwartman: "At Blackstone, we're the largest owner of leveraged loans in the world…. We went through the global financial crisis and had almost no losses in leveraged loans. So you wouldn't think people would be overreacting in a time period like the current one where global growth is estimated to be sort of 3.5%. Nevertheless, there's a liquidity imbalance. Investors want liquidity from mutual funds that own these loans, forcing fund managers to sell. If there's no one to buy, then those securities for technical reasons will gap. And that's what's going on. It's leading to a repricing of those loans, and leading buyers to get a better deal than they had two months ago."
4. If bond curve further inverts, so too can Confidence.  As bond spreads widen, so too do fears of defaults.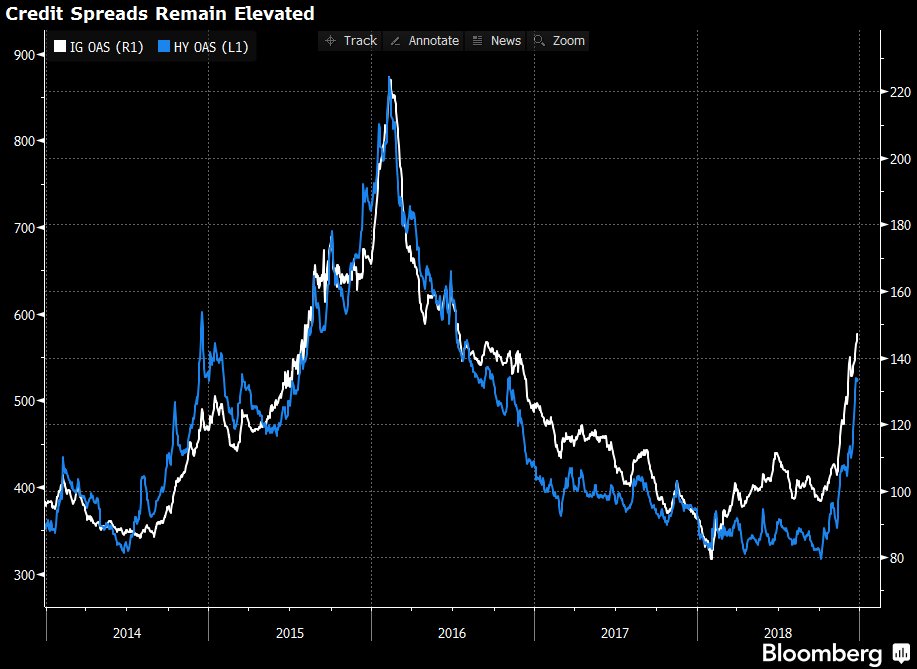 5. The Wild Cards:
Trump, Trump/Mueller, Bank Reserve Ratio Reports, FOMC Meeting, Trade Tariff Deadlines, China, Italy, BREXIT… You get my point.
Technical Evidence is Mounting
Gold:SPX ratio is also signaling a continued weakness in the indices.
SPY not done catching down to Regional Banks
Nasdaq hasn't had such severe selling since 2008 and I see no trend reversal/bottom fishing SWING set up long yet:
Small Caps still have a gap to fill (pre-Trump bump unwind):
Germany still looks and IS weak:
Japan is an accident waiting to happen:
The previous growth engine of the economy and stock market uptrend – namely FANG and Oil – have  collapsed – but the 10-yr Japanese yield just went negative for first time since Sept 2017… this could put pressure on the USD once again. In addition, the Dollar is clearly not following the decline in yields, yet.
Yields and Inflation Expectations: As a result of crude cascading, so too has inflation expectations and yields, which has also hurt banks.
So what could possibly buoy inflation in the New Year? A lower USD of course!
Flat yield curves and full employment (<4.5%) are very, very rare.  In the last 18 years we had it for basically six months: first half of 2007.  Before that was first half of 2000.  That combination has historically been incredibly toxic to stocks.
---
My 2018 Roadmap has been and continues to be this Major Outlier Event and the very significant distance it can still travel:
With that, don't forget to hedge and see you in the New Year!
Thanks for reading and please consider joining me in the LIVE Trading Room where we work through Value and Momentum trade ideas and set ups every trading day.
---
At LaDucTrading, Samantha LaDuc leads the analysis, education and trading services. She analyzes price patterns and inter-market relationships across stocks, commodities, currencies and interest rates; develops macro investment themes to identify tactical trading opportunities; and employs strategic technical analysis to deliver high conviction stock, sector and market calls. Through LIVE portfolio-tracking, across multiple time-frames, we offer real-time Trade Alerts via SMS/email that frame the Thesis, Triggers, Time Frames, Trade Set-ups and Option Tactics. Samantha excels in chart pattern recognition, volatility insight with some big-picture macro perspective thrown in.

More Macro:  @SamanthaLaDuc  Macro-to-Micro: @LaDucTrading