USD Spike Risk
"I contend the next phase of stock sell-off likely begins when the USD spikes hard and momentum stocks get sold." Me, past few weeks. 
And why would the dollar spike if Fed is throwing everything it can at it to break it's ascent? I contend this line will be broken as leveraged funds of all types continue their "de-risking, de-grossing, de-leveraging" they paused for end-of-month/quarter "window dressing". As USD is moving higher, funds will be selling Tech darlings and their love-children,Semis.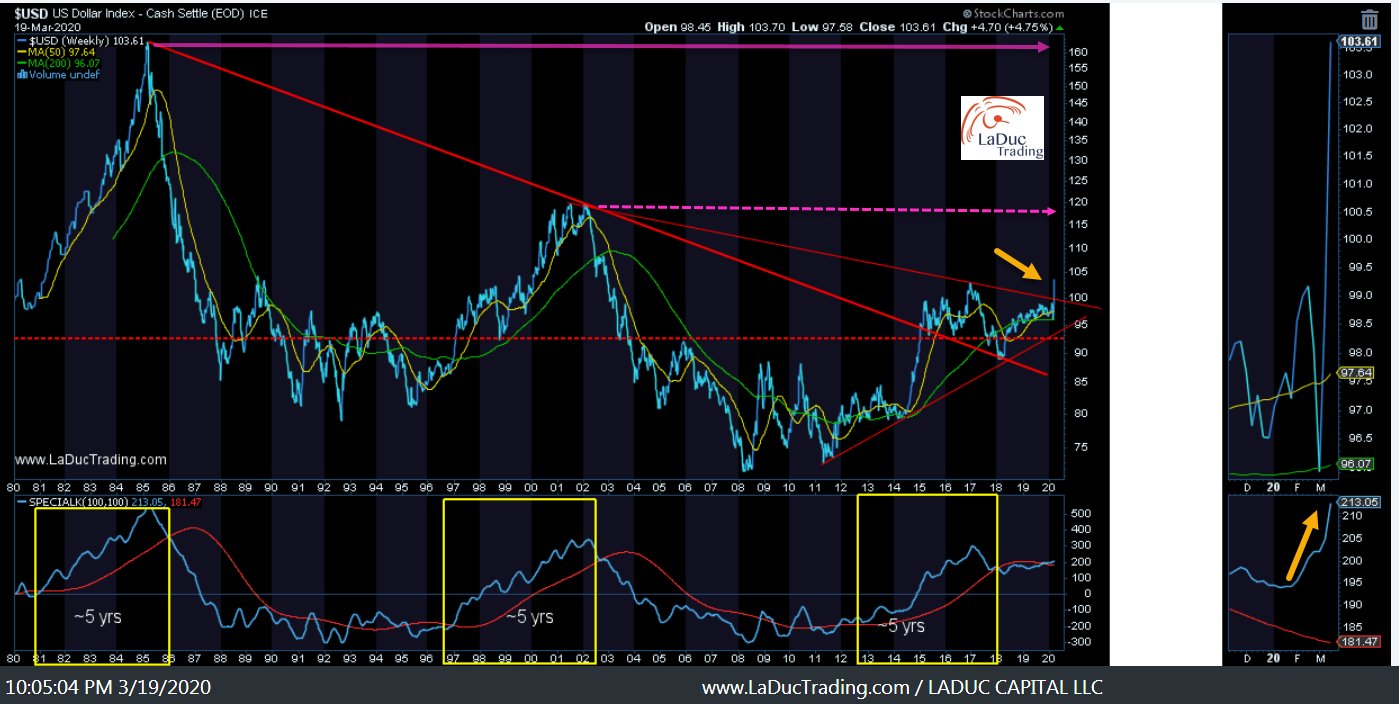 But what could be the driving impetus for higher USD? Well, here's a thought: given headlines the White House are pushing out to antagonize China, it wouldn't surprise me if China antagonizes back – like devaluing their currency. By devaluing the yuan, US dollar would be bid up. This chart of USDCNH shows a breakout in progress on multiple time-frames. If/When this happens, there would be a new wave of de-risking in US markets. I suspect the selling of equities and in particular Tech to be strong.
In a Bear Market, which we are in, a bounce is a rally to sell into. We have risen from SPX $2192 to $2641 in under 2 wks. I was cheekily calling for $2666 this week. But I'm quite serious that a break of SPX $2375 is another short-at-will moment much like the warning/level I gave back on 2/26 ~$3180.
Oil Meeting Friday
Breaking: Sources tell me at least 7 oil and gas CEOs to attend meeting at White House on Friday. IN PERSON.

CEOs include from Exxon, Chevron, Occidental, Devon, Enterprise Transfer, Phillips66 and former Continental CEO Harold Hamm.

— Brian Sullivan (@SullyCNBC) April 1, 2020
Given…
Shale Debt
Supply Glut
Demand Destruction
Investment Hole
Saudi Oil War
…
What incentives could Trump really offer – that would pop Oil for more than a trade?
Depends on time-frame… As an investment, probably not really ready – until after USD spikes and reverses – but as a trade, there are a few reasons it looks really good:
Technical Channel Support
From my good friend, Chris Kimble:
Macro Narrative
Trump is pulling out every angle he can to support crude today – after similar posturing yesterday, supporting my long Oil trade idea:
Iran escalation: "Upon information and belief, Iran or its proxies are planning a sneak attack on U.S. troops and/or assets in Iraq. If this happens, Iran will pay a very heavy price, indeed!" Trump earlier today.
Trump to meet with oil company CEOs Friday – XOM, CVX, OXY – about helping industry – WSJ report.
Proposals: waiver of Jones Act to allow more shipping of crude and potential tariffs on Saudi oil.
Even Putin came out today (after supposed call with Trump yesterday) to call for "users, suppliers of oil" to work to ease market.
EIA inventories were "strong build" which is very bearish, and yet, crude trades higher despite market deep in the red today. That tells me Trump efforts to stabilize are working.
Speculation rains:
Someone even suggested Trump could propose to spend a lot of money building "US Strategic Oil Reserves", of course letting US government resell at market up later.
There could be some M&A or roll up about ready to happen in the space with support from the majors and White House.
Another unfortunate set up would be that Trump announces military action against Iran.
Regardless, the bid in USO has been robust and speculators will likely enter long on the expectation risk premium builds in the Oil market.
I will place some trades tomorrow on this theme – beyond USO and XOM from Monday. See you in my live trading room – trade alerts go live again starting April 2nd.