Market Timing Calls
In follow up to my recent "Fishing Plans" for last week and even as recently as Monday:
Market: $SPX $3400 PT this wk from $3235 last Monday Feb 3rd – in play despite slight pullback EOD today, which I suggested in my live trading room this morning might occur.
Sector Rotation: $IPO – is still in play since my call in November (see links below).

Most notably this week – $UBER $WORK $CRWD $BILI $LK $SDC – continue to work.

Stock Picks: $TEVA $GBTC $NVTA $SBAC $SPWR – are still working extremely well. So are ANG… since the F in FB was downgraded today (Pivotal).
Macro Themes: $DXY $VLUE $TNX – yup higher, yup higher, yup higher
Stragglers: I'm waiting on USD/JPY to tag ~$110.50 for SPX rally to end and Crude to fill $48.80 before countertrend rally bounce on value and  reflation theme.
Calendar Items to Watch: EIA Inventories Wednesday 10:30AM and Powell testimony 1:30PM; Inflation print (CPI Core YoY) Thursday and Retail print Friday after poor JOLTS report today.
Every day: CoronaVirus reports and Liquidity injections by China and Fed.
Biggest Risk: China abruptly devalues Yuan to counteract economic growth contraction from CoronaVirus which spikes USD, causing Volatility in equity and credit markets which reprices everything.
Sector Rotation Review: IPO Plays
Market Thoughts
Positive Feedback Loop is In Play when buying begets buying, and with that, here is where I see markets headed next few weeks:
Hedge into weekend, unwind and shoot higher first part of week.
Pullback Friday into long weekend to get in front of headline risk before stabilizing Monday.
Run into OPEX next Friday the 21st.
Chop sideways to lower into Super Tuesday March 3rd.
Volatility enters to disrupt the market as election risk hedging unwinds following Super Tuesday.
Rate Spike Prediction
You've heard my Top 10 Reasons for Bond Pullback. Well, here are some more:
Breadth Worry
This is also a repeated theme I present here daily – see Thursday and Friday for charts. Well, I'm going to let someone else give you his reasons for market breadth not confirming:
What's Not Confirming the New High:
-Volatility
-% S&P above 50-MA
-% Nasdaq above 50-MA
-# S&P At 52 wk Highs
-McClellan Osc.
-High Yield Bonds
-Financials Relative Perf.
-Semiconductors
-Micro/Small/Mid Caps
-High Beta
-VL Geometric Index
-Discretionary/Staples Ratio
-Momentum

— Andrew Thrasher, CMT (@AndrewThrasher) February 11, 2020
Macro Matters
Repo drives Rates
This is an excellent interview set on Repo. In particular, minute 50:40-54:40 talks about why Fed cash is trapped in the repo market. This is huge because to slow/stop Repo operations… Rates have to be higher! So even if the Fed cuts, at any point they want to pull back or get out of the Repo operations, by default, rates must rise SO FED IS STUCK.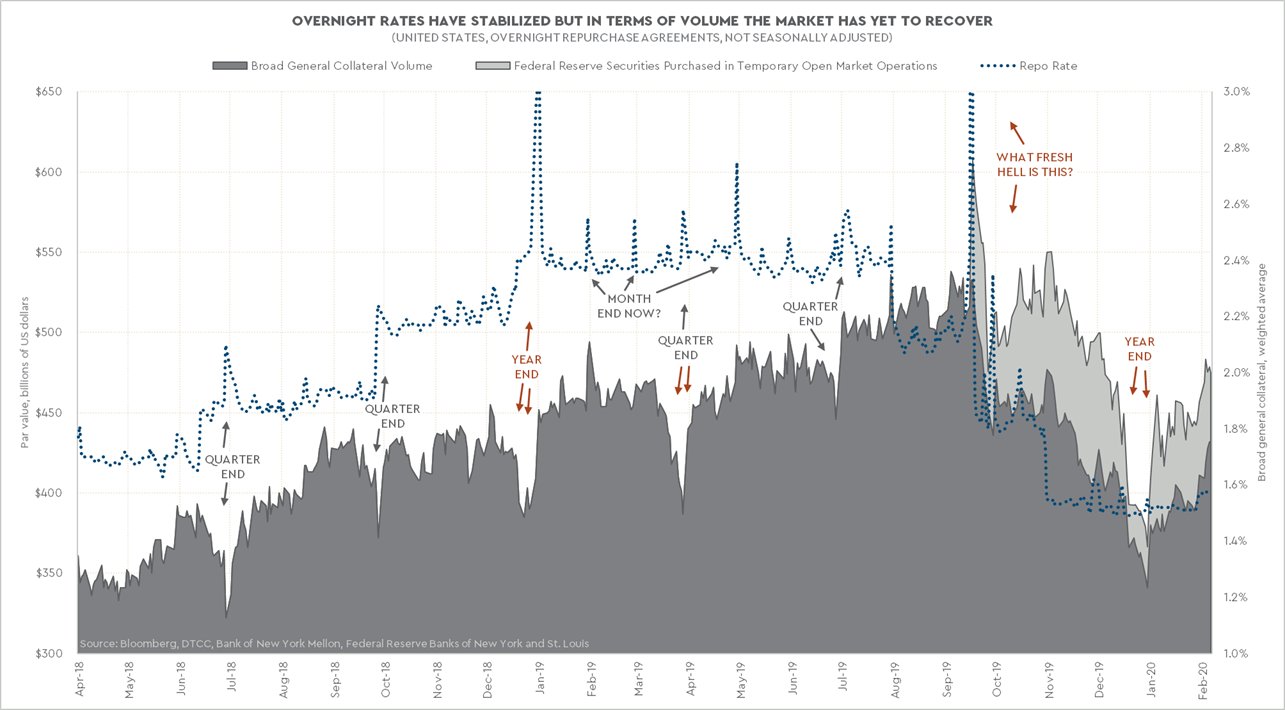 US Dollar Dilemma
The USD just enjoyed its strongest week in almost a year and here's why in large part:
The US has THE biggest companies in world so capital flows into US markets bidding up USD.
CoronaVirus shows us China isn't ready to challenge American economic hegemony.
And the Euro project is failing miserably
With that thought, here is a reminder why this matters:
"The FOMC should forget about r* for the moment and focus on … the supermassive black hole at the center of global dollar funding markets."—Zoltan Poszar, 21 August, 2019.
Good Read on Repo by @GeorgeSelgin
CoronaVirus Contagion
Dr Leung told The Guardian the priority now is to establish the size and shape of the 'epidemic iceberg'.

Assumed: each infected person transmitted to 2.5 people, 'attack rate' of 60-80%, and even 1% fatality rate = 45M of 7B world population#CoronaVirus https://t.co/9voNzbspRO

— Samantha LaDuc (@SamanthaLaDuc) February 11, 2020
Trading Ideas from my Live Trading Room
I've been crazy about this scoop pattern for SBAC for weeks and today it ignited on the S/TMUS deal with AMT as sympathy play (tower companies). It shot past my PT and still looks bullish after consolidation.
CRWD is an IPO swing play I've recommended since January that is firmly above the 10/21W which I suggested Thursday looked ready to move violently higher and soon. It was up 5% premarket on an upgrade $80PT.
FDX is trying to push above this WK triangle with EPS one month out and nice bullish engulfing on 2/7. Another bottom fishing play is MMM.
GBTC has a great scoop pattern on WKly as well. Have been recommending this for months on the Bitcoin rising into May theme.
I recommended SPWR last week. Notice the similar scoop pattern… and after hours it shows a post market surge.
These 'Other' plays continue to work!!: SDC, ZS, ULTA, LB, VEEV, DB, – even NFLX, AMZN, GOOGL also continue to trend higher.
Calendar for Wednesday
Economic Calendar:
7:00 AM EST               MBA Mortgage Applications Data
10:30 AM EST             Weekly DOE Inventory Data
2:00 PM EST               Monthly Budget Statement for January
Earnings Calendar:
Earnings Before the Open: AB, BG, BXMT, CME, COWN, CVS, ECOM, GPN, IPG, IQV, KALA, LAD, MCO, NBL, NBLX, NTWK, TAP, TW, VERU, WNC
Earnings After the Close: AEL, AIZ, AKR, AM, AMAT, ANDE, AR, ASGN, ATUS, BLBD, BRKR, CDNS, CF, CHEF, CHNG, COHU, CSCO, CTL, CXW, EFX, EQIX, FTSI, HR, HUBS, IFF, LPI, MGM, MRO, NTAP, NUS, PEGA, PRSP, PS, QDEL, QLYS, RDFN, REG, RUSHA, SPWR, SSNC, STAG, TCO, TRIP, TRMB, TYL, VNOM
---
See you in my Live Trading Room!
Samantha