Market Thoughts
Last few weeks I have posted my market timing calls and so far so good (tad early or wrong on oil+gas plays potentially):
Thinking out loud, here are my short-timeframe Macro-to-Micro Calls for the next few weeks (already detailed in last week's Fishing Lessons):

Bonds pullback, Rates move higher
Yen pulls back before launching end of year.
US Dollar (and Yields) higher helps Gold/Silver pullback, before launching end of year.
Oil chops but Oil+Gas companies move higher in Q3.
Select Industrials (mainly Transports) move higher while Indices chop into August, then drop
My View:

Powell's position – there's no going back to "normal"– only fuels more demand for the long end. 
Inflation expectations reverse sharply: Just as they did of late – "1% expect inflation to rise in the next 12 months vs 80% a year ago".
Fed lowers short-term rates – to better sync with 2-year Treasury Note Yield:  ~1.85 now on it way to where they were in Dec 2015 ~1%. 
Bull Steepener in yield curve results in the next 6-12 months.

With "Fed-induced" inflation coming as short term rates fall, dollar weakness results but not likely until after Fed is done cutting 50 bps (estimated December 2019).

And with that, a Steepener is not bullish equities.
Yields Likely Pop Despite Fed Cuts
I have a newsletter coming up for clients on Where Rates Are Going and how to play it. They will also be able to follow along with me as I Live Trade with my Brokerage-Triggered Trade Alerts. Here's the gist: I see rates moving higher, despite whatever the Fed does Wednesday.
One indicator I came across recently – from an interest rate bear @biancoresearch – does a good job of graphically representing how the Treasury Bonds Consensus Data is approaching our all-time low 10-year yield (circled) from back in 2016. I wrote back in 2016 that I believed that was The Generational Low. This thesis may be tested…
Anyway, the point I'm trying to make is that the below reading has proven to serve as a launchpad for higher yields. And as I have written about past few months, with Fed cutting rates (which market fully expects them to do), we likely get a knee-jerk reaction higher in markets – before Trump escalates the Trade Tariff Wars. I also believe that whatever Powell presents this coming week will be destined to disappoint. Why? Well, that's when you sign up for my Gone Fishing Newsletter at the very least to find out and get some support timing the turns.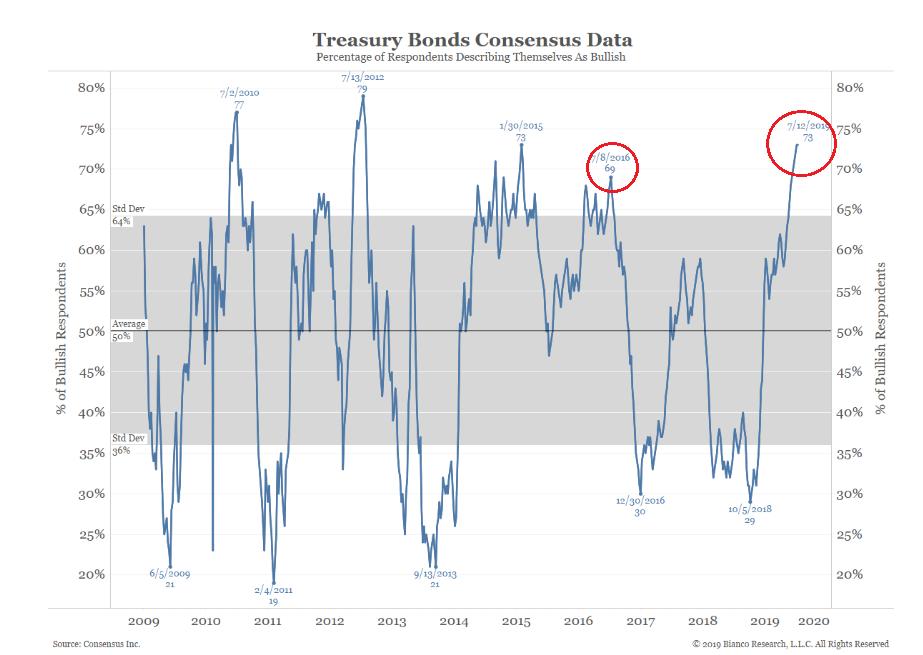 To catch you up on Last Week's Fishing Lessons / Daily Weather Reports:
Samantha Says
Jul. 26th, 9:57 am

Oil/Gas just churning here. Not great for my current trades, but not doing anything wrong.
Jul. 26th, 9:59 am

GLD higher despite UUP (dollar) move higher. It hasn't gotten the message yet and anticipate a drop in GLD later.
Jul. 26th, 10:05 am

DF; An interesting small dollar play for stock buy. Nice rounding bottom on weekly and daily inverse H & S. Longer term trend play.
Jul. 26th, 10:55 am

 THC; Nice bullish engulfing weekly candle. Trading a Nov 15 call spread – bought 25C, sold 30C for cost of 0.94. in anticipation of follow through post earnings August 5th. Also above average option activity with put selling and call buying.
Jul. 26th, 11:00 am

ROKU; Looks great. Coming out of hourly squeeze to upside. Above 111 for a move to 113.
Jul. 26th, 11:14 am

Rotation theme to small caps and banks still in play. Financials are 16.65% of IWM.
Jul. 26th, 11:21 am

SMH; Semis so extended. Outside weekly bollinger band and watching for retracement.
Wall Street Jane's Journal
Jane is not only Samantha's Live Trading Room moderator, she facilitates client engagement and relays Samantha's trade ideas into the LaDucTrading StockTwits Premium Room. A former banking VP during the GFC, she now trades full-time and actively shares her trading ideas, plan and process.
Trade Idea: $PM Long: The potential for a trend change and with the weekly Inverse H&S this could set up to be a nice swing to trend trade. Clearly overhead resistance on the weekly still needs to be resolved, but if it can move above and hold $93, then above $95 and the 200D, could make for a good trade. It's also holding the earnings gap higher.
Macro Matters
Economic Data
Gross Domestic Product Q2 2019: Second-quarter U.S. GDP growth tapers off to 2.1% from 3.1%.
The Commerce Department data Friday showed gross domestic product expanded at a 2.1% annualized rate in the April-June period, topping forecasts for 1.8%. Still, that was down from 3.1% in first quarter.

Consumer spending, the biggest part of the economy, increased 4.3%, while government spending climbed 5% and offered the biggest boost in a decade. Nonresidential investment fell 0.6% for the first drop since 2015 and residential decreased for a sixth straight period.

Trade Wars and More
U.S. to deny tariff relief for Apple Mac Pro parts from China
U.S. President Donald Trump on Friday said his administration would not grant Apple Inc any relief for tariffs on parts made in China for its Mac Pro computer and later added he thought the firm would build a plant in Texas.

"Apple will not be given Tariff waiver, or relief, for Mac Pro parts that are made in China. Make them in the USA, no Tariffs!" Trump tweeted.

On July 18, Apple asked the U.S. Trade Representative's office to waive 25% tariffs on 15 parts, including ones for the Mac Pro desktop computer. The public comment period for those requests closes on Aug. 1.

Trump later told reporters he thought Apple would build a plant in Texas, without elaborating on exactly what he was referring to or how he knew.
Trump says China may try to delay trade deal until 2020 election
U.S. President Donald Trump on Friday offered a pessimistic view on reaching a trade deal with China, saying Beijing may not sign one before the November 2020 election in hopes a Democrat who will be easier to deal with, will win.

During a wide-ranging session with reporters in the Oval Office, Trump said China is using stalling tactics and he doubted a trade deal will be reached any time soon, with lead negotiators for the two countries to meet in Shanghai next week.

Trump has been tough on Chinese trade practices throughout his presidency and has levied billions of dollars in tariffs on Chinese imports and threatened another $325 billion if no progress is reached.
Johnson, Trump discuss trade, Brexit and Iran: Downing Street
British Prime Minister Boris Johnson and U.S. President Donald Trump have agreed to start talks as soon as possible after the UK leaves the European Union, a Downing Street representative said on Friday.

In a conversation on Friday, Johnson and Trump expressed commitment to delivering an "ambitious free trade agreement", according to a statement, which also said they will meet at the G7 Summit in Biarritz, France, in August.

The two also discussed recent tensions with Iran and the need for the two countries to work together on the issue, the statement added.
Great Reads
Could Wooden Buildings Be a Solution to Climate Change?
Timber structures would allow us to draw carbon from the air and store it in our homes and offices – leading some to believe that wooden buildings are the future of architecture. Not only does wood remove more CO2 from the atmosphere than it adds through manufacture, but by replacing carbon-intensive materials such as concrete or steel it doubles its contribution to lowering CO2.
For Monster Gains With World's Largest ETF, Trade It After Hours
Buying the SPDR S&P 500 ETF, or SPY, at the close of trading and selling it at the next day's market open has yielded more than 670%, excluding dividends, since 1993, according to Bespoke Investment Group