Market Thoughts
To catch you up on Last Week's Fishing Lessons / Daily Weather Reports:
Thinking out loud, here are my short-timeframe Macro-to-Micro Calls for the next few weeks (already detailed in last week's Fishing Lessons):
Bonds pullback, Rates move higher
Yen pulls back before launching end of year.
US Dollar (and Yields) higher helps Gold/Silver pullback, before launching end of year.
Oil chops but Oil+Gas companies move higher in Q3.
Select Industrials (mainly Transports) move higher while Indices chop into August, then drop
---
Yields Likely Pop Despite Fed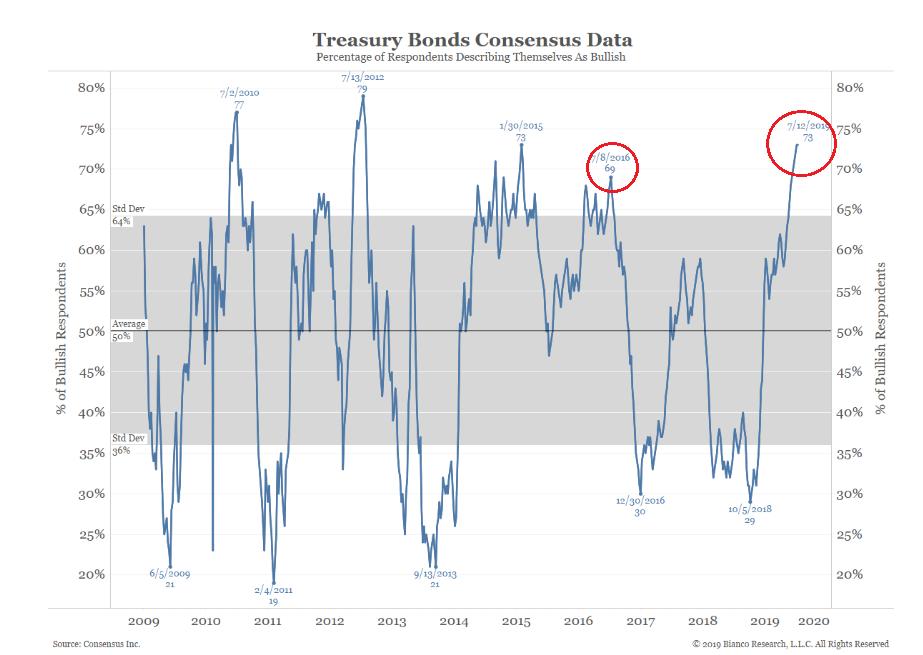 Higher TODAY than 2016's all-time low yield (circled). That reading provided a slingshot signal for higher yields. Would it surprise if history repeats next week, when whatever Powell does is destined to disappoint? @biancoresearch
Sentiment – All Bulled Up
Retail clients buying for the first time in nine weeks:
Last week, during which the S&P 500 was down -1.2%, BofAML clients bought US equities, in a reversal from the prior week. Clients bought single stocks (after two weeks of selling) as well as ETFs (fourth consecutive week).

All three client groups — hedge funds, institutional and private clients — were net buyers last week. For private clients, last week marked the first time they bought equities in nine weeks, and only the fourth week of buying so far this year.

Heading into the second week of 2Q earnings, buybacks by corporate clients picked up to the highest level in four weeks, although the YoY growth rate for cumulative buybacks YTD continued to decelerate to +13%. Consensus currently expects a 1 -2ppt contribution from buybacks to 2Q EPS growth of -2% YoY.
Fun Chart from @KimbleCharting and @Sentimentrader:
Stocks are reporting Q2 but trading on Q3
Here's how it looks – so far – for Q3 2019 EPS estimates, as 85  of the S&P companies report Q2 and how revisions compare. Thanks to @EarningsScout for great chart!
Estimates fell 4.18% in Q1 and 2.38% in Q2. So far estimate cuts are lower than the last 2 quarters as Q3 EPS estimates fell 1.07%. Let's see if this improving trend continues.
Note – even though the "descent is slowing", we still have 65% of firms lowering estimates, which is worse than the 3 year average of 50%.
Macro Matters
JPMorgan's Michael Cembalest believes the leveraged loan market is 'deeply concerning' right now. 
In Europe, 95% of all leveraged loans are now "cov-lite," meaning that companies have made few or zero promises to investors about how they get their money back. Globally, it's over 80%.
China's new tech market Shares rocketed as much as 520%on China's new Nasdaq-style board that debuted Monday, with the first batch of 25 companies seeing major gains. The Science and Technology Innovation Board, or "STAR Market," is a pet project of President Xi and part of Beijing's effort to revitalize a slowing economy and sharpen its edge in the fight for global tech dominance. Firms going public on the new STAR bourse merely need registration, compared to the regulatory approval needed to list on the Shanghai A-share market
Chinese investment into the US has plunged 90% since Trump took office — and poorer states may get hit the hardest.
Chinese FDI peaked in 2016 at $46.5 billion which has now fallen to $5.4 billion.
Economic Data
Existing Home Sales: Existing-home sales dip 1.7% in June
Sales of previously owned homes slipped 1.7% in June, reflecting ongoing weakness in the U.S. housing market despite a sharp drop in mortgage rates.

Existing-home sales sold at a 5.27 million annual pace last month, down from 5.36 million in May, the National Association of Realtors said Tuesday. That's how many homes would be sold in 2019 if sales took place at same rate over the entire year as they did in June.
IMF says first-quarter global trade growth slowest since 2012, big downside risk
Global trade expanded by just 0.5% in the first quarter of 2019, marking the slowest year-on-year pace of growth since 2012 amid signs a more significant slowdown is possible, International Monetary Fund officials said on Tuesday.

The IMF on Tuesday lowered its forecast for global growth this year and next, warning that more U.S.-China tariffs, auto tariffs or a disorderly Brexit could further slow growth, weaken investment and disrupt supply chains.

IMF chief economist Gita Gopinath told reporters in Santiago, Chile, the global lender did not see signs of a recession, but did see "significant downside risks" for global growth going forward, including escalating trade wars.

Trade Wars and More
Boris Johnson Wins Race to Be Next British Prime Minister
Boris Johnson, the public face of the Brexit campaign, won the contest to succeed Theresa May as British prime minister, taking over a country in crisis and a government on the brink of breaking apart.

After a six-week leadership race, which he led from the start, 55-year-old Johnson defeated his rival Foreign Secretary Jeremy Hunt by a landslide in a ballot of the Conservative Party's roughly 160,000 members.

The pound fell for a third day as Johnson's landslide victory revived Brexit anxiety, with market attention turning to what changes he will make to the inner circle of government. The result marks the end of a bruising battle for the biggest job in British politics and the start of what threatens to be a brutal new phase in the civil war inside the government over Brexit.
U.S. Negotiators to Head to China Monday for Face-to-Face Talks
U.S. Trade Representative Robert Lighthizer and senior U.S. officials are set to travel to China next Monday for the first high-level, face-to-face trade negotiations between the world's two biggest economies since talks broke down in May.

Lighthizer and a small team will be in Shanghai through Wednesday, according to people familiar with the plans who asked not to be identified. The meeting will involve a broad discussion of the issues outstanding and isn't expected to yield major breakthroughs, a senior administration official said.
Justice Department Launches Antitrust Probe of Big Tech: AAPL, AMZN, GOOGL, FB
The U.S. Department of Justice opened a sweeping antitrust investigation of big technology companies and whether their online platforms have hurt competition, suppressed innovation or otherwise harmed consumers.

It comes as a growing number of lawmakers have called for stricter regulation or even breaking up of the big tech companies, which have come under intense scrutiny following a series of scandals that compromised users' privacy.

President Donald Trump also has relentlessly criticized the big tech companies by name in recent months. He frequently asserts, without evidence, that companies such as Facebook and Google are biased against him and conservative politicians.
Samantha Says
Jul. 23rd, 10:00 am

GE; move above and hold at 10.68 very constructive. Been forming a wedge for several months.
Jul. 23rd, 10:41 am

GE; If it can break that 10.68 mentioned earlier, looking for move to 11.82 and then 12.50
Jul. 23rd, 11:08 am

Clear rotation in to financials, but on what? Yes, undervalued relative to tech, but would usually see the rotation out of tech at same time and that's not happening. Also with rate cuts pending that's not helpful for banks.
Jul. 23rd, 11:11 am

Options activity this morning; Banks repeat buyers and airlines bigger buys.
**I have a double long position of SNAP into earnings. I wrote about why few weeks ago for clients. 
Wall Street Jane's Journal
Jane is not only Samantha's Live Trading Room moderator, she facilitates client engagement and relays Samantha's trade ideas into the LaDucTrading StockTwits Premium Room. A former banking VP during the GFC, she now trades full-time and actively shares her trading ideas, plan and process.
Discussion: $IWM
I just wanted to touch on IWM and what I'm seeing on the charts. We all know the Russell has been a laggard and very choppy. I have no idea if its fortunes are about to change, but I did want to note the confluence of moving averages on the weekly, daily, and hourly. I use the 8/21EMA and 50/100/200SMA for my analysis. When we look at the weekly, we can see a confluence of the 8/21EMA and 50/100SMA. All but the 200WK, which remains upward sloping. The daily shows a confluence of the 8/21EMA and 100SMA, and the hourly shows a fairly tight confluence of all moving averages. During the last hour of the day it appears to have broken and closed above the falling wedge pattern. It still has a lot of work to prove itself, but with a weekly squeeze that tends to fire to the upside, I'm watching for higher. Should it instead fail and we head lower, watch out below.
Great Reads
Great Bloomberg Opinion piece by Noah Smith: The Choice Isn't Between Capitalism or Socialism