Fed – Much To Do About Nothing
Fed has spoken (with release of their minutes today) and they didn't say much. I will say they were not as dovish as some had hoped – given Fed Funds future bet for two rate hikes this year. In the latest statement that covers their last April meeting, there was no mention of cutting rates or balance sheet adjustment – just of being patient. Again, I contend Powell has no desire to cut and would raise if he could! I also agree with this sentiment:
Evolving meaning of FedSpeak: Last year, "transitory" weakness in inflation meant delaying rate hike. Today, "transitory weakness" means delaying rate CUT. Trade war should force Fed to cut rates in Q4. @alaidi
Market Participants are … Bullish
Investors Intelligence Poll is out and those in Neutral camp have started to take a stand:
Bulls: 49,5%
Bears: 17,2%
Maybe they didn't get these memos:
Infrastructure Bill is DOA
This morning after Pelosi said Trump was "covering-up" in regards to the Mueller case, Trump called an "impromptu" press conference defending his transparency and saying that Congress should pass his trade deal (the new NAFTA one) before doing an Infrastructure deal. So, the $2 trillion infrastructure deal folks got excited about 3 weeks ago is basically dead. Oh yeah, he also wants the Dems to drop the  cover-up investigation.
Impeachment or Court Battle
Democrats are faced with a complicated and risky choice: take on the White House in a lengthy court battle or begin an impeachment – Bloomberg
Oil Falls on Supply Worries
Time to start looking at US credit protection, CDX IG, once again as oil is not happy, and credit is full of oil risk….h/t @themarketear
Tariff Tremor
Nearly 200 American footwear companies including Nike (NKE), Fila and Reebok have written to Trump, asking him to take shoes off the China list, saying it would be "catastrophic" for consumers and companies to be hit with the last traunch of tariffs on China imports at the 25% rate.  Also affected would be consumer goods such as clothing and accessories and the retail stores that sell them.
Morgan Stanley chimed in:
IF U.S.-CHINA DON'T AGREE TRADE DEAL AND U.S. IMPOSES 25% TARIFFS ON THE REMAINING $300 BILLION OF IMPORTS FROM CHINA, WE SEE THE GLOBAL ECONOMY HEADING TOWARDS RECESSION
Profit and Earnings Recession?
And think about it: the additional tariffs would be AFTER already dismal retail results from Nordstrom, Kohls and Lowe's of late.
In fact, Q1 Earnings are not as rosy as folks think when it comes to profits:
Profits grew just 0.71% in the first quarter based on the 92% of the S&P 500 members that have reported first-quarter results, a rate of increase that doesn't even beat the current low rates of inflation, according to Bianco Research. "This means there is no 'real' growth, so it would be difficult to describe (first quarter) results as great." Jim Bianco
It's unlikely to get better anytime soon, with estimates calling for earnings growth of just 1.1% this quarter and 1.8% in the third quarter, before miraculously surging 8.1% in the final three months of the year… right before the US-China Trade War really heats up?
So, stocks might be able to avoid the earnings recession predicated by many at the start of the year, but there's still a rising dollar to worry about.
US Dollar About To Break Higher?
The Fed's Trade Weighted Real Broad Dollar Index is back to about its highest level since 2003 and global trade volumes are the lowest since the financial crisis.
A break, and we are probably into the next and most destructive phase of $ rally.

@RaoulGMI
Rare Earth Trade War
After President Xi visited Ganzhou over the weekend, a major Rare Earth mining base in China, shares of China Rare Earth extending gains to more than 80% in HK Monday. Related US plays: REMX, LIT, GG, ARU, LYSCF.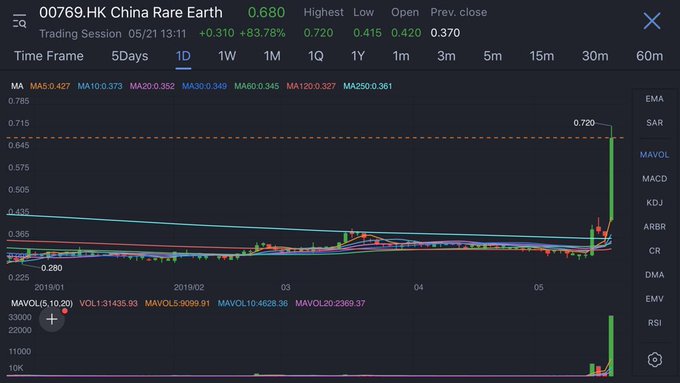 China Punches Up The Rhetoric
Chinese President #XiJinping said today after ARM (British chip manufacturer) stops working with Huawei and Panasonic (Japanese manufacturer) also said that they would not work with the China mega tech company:
"On the new Long March, we must overcome various major risks and challenges from home and abroad" "We must be conscious of the long-term and complex nature of unfavorable factors at home and abroad and prepare for difficult situations @YuanTalks
And
Founder of Huawei…..Ren Zhengfei to Chinese media:" I've sacrificed myself and family for the sake of a goal that we will stand on top of the world. To achieve this goal, a conflict with the U.S. is inevitable." via @GaoYuan86
Huawei Matters To Tech 
Not only is Huawai way ahead of the 5G developers worldwide, they are also the #1 Tech company in China and #2 Smartphone maker in the world.
Samsung's annual growth in worldwide smartphone shipments declining 10% in the first quarter of 2019, while Huawei surged 50.2%. In the same period, American technology giant Apple's smartphone growth slid 23.2%. Daniel Yoo, head of global strategy and research at Kiwoom Securities.
U.S. sectors most sensitive to China as judged by share of sales include Technology, naturally, as well as Autos and Consumer Products.:
US Dollar Matters to World Trade
Have a close look at the dotted red line in the first image: Bank Loans have fallen well below the fold (0 line).
Also note the BIS study that clearly shows the USD impact on global trade (second image).
Global value chain activity is reliant on financing for working capital, and fluctuates with financial conditions. Prevalence of dollar invoicing means that the dollar index is a useful concurrent indicator for trade activity: Shin of BIS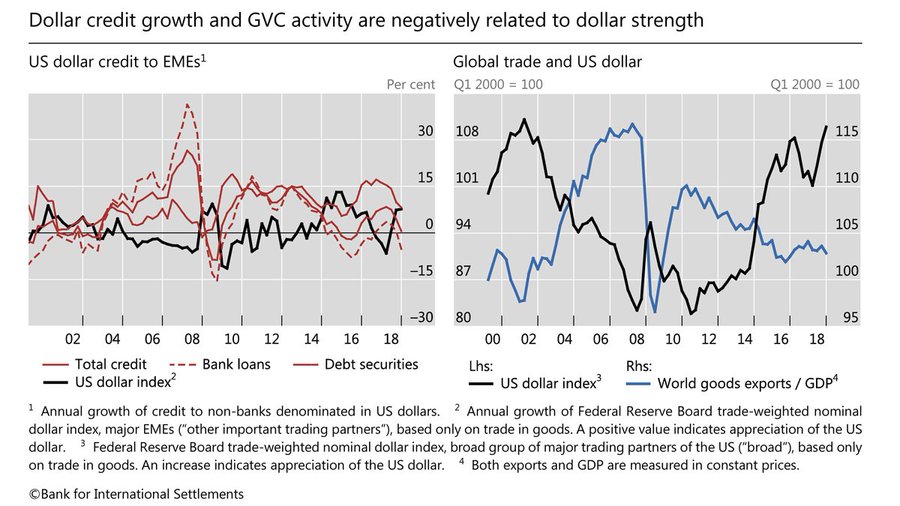 So Does A Weakening Yuan
Allowing the yuan to weaken beyond seven per dollar could mark a huge shift in the international terms of trade. Bloomberg
---
My Market Thoughts
I'm going to summarize this as concisely as I can.
Consensus Views:
Most expect Fed to cut.
Most don't expect that if Fed cuts the 10-year yields go UP not down – as market prices in "better economy" – steepening the yield curve.
Most think Earnings reports are going great and getting greater.
Most expect a market Melt-Up is imminent ala 1995/1999.
Most expect a soft Brexit or none at all.
Most don't expect the EU Parliamentary elections to threaten stability of the monetary union.
Most expect China to cave.
Most expect Yuan stability / USDCNH 7.0 to be Ceiling.
Most expect Trump to be unimpeachable and win 2020 and Debt Ceiling to be Raised to Infinity.
Most think Volatility is easy to kill.
Color me skeptical.
There's a lot not priced in.
Samantha