Market Thoughts
I added no Volatility into the G20 event. I expected 'optics' not specifics. There was talk of compromise, some would say can-kicking: Trump said he would hold off imposing tariffs on an another $300 billion of Chinese goods (versus the earlier threat of levying them if Xi didn't meet), and, much to the chagrin of his GOP and Dem 'team-mates', he agreed to delay restrictions on Huawei Technologies Co. That was enough to cause Futures to gap higher so our Monday morning, 1st day of July and start of the second half of the year, would be unchase-able. (But it was fade-able intraday! Copper's Hard Reversal was the Tell and about the same time, 18 minutes in, we had 1,059 stocks up from the open  vs 2,107 that were down from the open (H/T @ZorTrades). More in 'Samantha Says' below.)
Here's President Trump's rally-launching tweet – in a 3 tweet thread Sunday:
– US $300B tariff trade bluff and Telecom bad boy Huawei sanctions; withdrawn
– China sets up DMZ photo shoot in N Korea, Peninsula safer
– Putin / MBS oil production deal, OPEC irrelevance new level
– no trade timeline moving forward
– no specifics on US products to China
A Chinese Advisor also weighed in that a final U.S.-China trade deal was no more likely
A trade truce with the U.S. reached over the weekend makes a final trade deal no more likely, according to Zhu Ning, a Chinese academic who advises the Chinese government and central bank. He likens the dispute to conflicts in Korea or Vietnam. "It could drag on and there could be no declaration of war but the skirmishes keep going," he said on the sidelines of the World Economic Forum in Dalian on Monday
Here were the economic releases from just this morning. Globally, fundamentals are deteriorating rapidly:
S.KOREA JUNE NEW EXPORT ORDERS CONTRACT FOR 11TH MONTH, LONGEST DECLINE ON RECORD – PMI
South Korea exports -13.5% vs. -9.4% last, FASTEST ANNUAL DECLINE SINCE JAN 2016
SOUTH KOREA JUNE CHIP EXPORTS DROP 25.5% Y/Y
TAIWAN NEW ORDERS SHRINK AT FASTEST RATE IN NEARLY FOUR YEARS, EXPORT SALES DECLINE SHARPLY – PMI
TAIWAN NIKKEI JUNE PMI FALLS TO 45.5 (VS 48.4 IN MAY), LOWEST SINCE NOVEMBER 2011
BOJ JUNE TANKAN: BIG MANUFACTURERS INDEX REGISTERS LOWEST READING SINCE SEPTEMBER 2016
Caixin China June Manufacturing PMI 49.4; Est. 50.1 Both large and small companies now contracting in China
Spain's Manufacturing PMI falls to 47.9, first contraction of manufacturing output in five-and-a-half years.
World manufacturing PMI declined for a 14th straight month, to 49.4 in June. Longest decline on record, to the lowest level since October 2012.
ISM New Orders shows the entirety of the Trump bump has been unwound and in danger of breaking lower as the 10-yr business cycle shows fatigue.. Chart H/T @RaoulGMI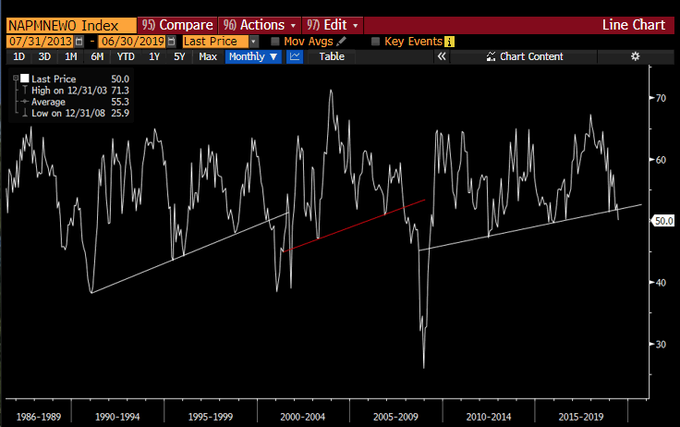 My Point:
Fundamentals are diverging greatly from sentiment-driven prices. I understand the bullish case of "less dirty shirt" and "easy money" for US equities triggered by Trade Truce talks BUT I also see risk of impending

#AirPocket

that is coming back into view. (Referring to my S

tock-Bond-Volatility Ratio and

Forex Volatility analysis presented to clients.)
I refer to this potential AirPocket as "Stall Speed":
Stall speed is the velocity below which an aircraft will descend, or 'stall', regardless of its angle of attack. If an aircraft's airspeed is greater than the stall speed then a pilot can increase the aircraft's angle of attack to achieve additional lift and compensate for a reduction in speed. However, there is a critical angle of attack beyond which no extra lift can be achieved, so this sets a limit on the minimum airspeed at which lift can be sustained. Copybook
So what might Trump do before FOMC end of month to try and get Velocity beneath the wings and 'angle of attack' for extra (stock market) lift? He will no doubt push for his rate cut and threaten Tariffs again!
And with Global Manufacturing PMIs continuing to contract meaningfully (think less air speed which is needed to keep us in flight), Tariffs (Trump) and Powell (Rate Cuts) are the stall speed risk. So it begs the question: Do you trust the pilots flying to avert disaster if we stall? 
---
---
Samantha Says
Jul. 1st, 9:23 am

Good morning and welcome to July! On a positive front, my Gold/Miner shorts and Semi long recommendations from last Mon/Tues are working great this AM. AMD approaching $32, AVGO thru $300, MU, NVDA etc. Lots of those short set ups in other sectors however are gonna be tested this morning!! Rotation is in full force: Wrote Friday: "Overbought ETFs that are in danger of giving back gains: HYG, DIA, IGV, IYR, GLD With Rotation into Oversold ETFs making some nice moves higher: IWM, IYT, XLF, XLE, XME" Problem is: A 9:1 Up day will soon be followed by a 9:1 down day. Algos work both ways.
Jul. 1st, 9:28 am

Copper completely gave back all gains this morning – big red flag. Careful with your (longs)
Jul. 1st, 9:35 am

LVS gapping above all of these moving averages doesn't mean it can't peter out again but that's definitely impressive strength just from a chart perspective
Jul. 1st, 9:38 am

 Energy moved above the 10WK…can it stay above the 10WK. Retail above the 10WK-can it stay? Homebuilders into bollinger band resistance. Cloud computing choppy to sideways. US Steel (X) continues to look really productive.
Jul. 1st, 9:42 am

AVGO over 303. PT was $300. (July Options are a triple and closed.)
Jul. 1st, 9:48 am

 Mongo (MDB) is definitely below the 10 week – that's not a good look. Roku is not participating in this rally whatsoever. (Cradle formation on Wk – bearish)
Jul. 1st, 9:49 am

I have no interest in chasing the highs and we have not rolled over yet.
Jul. 1st, 9:52 am

18 minutes and if we have a thousand stocks are up from the open versus 2000 that are down from the open
Jul. 1st, 9:56 am

OPEC agrees to cuts for another 9 months. I think that is priced in now.
Jul. 1st, 9:58 am

Macau revenue rising for second straight month- hence LVS, MGM and WYNN getting a lift. WYNN 73% of revenue comes from Macau so huge for them.
Jul. 1st, 10:02 am

Bonds are flat, gold is down, gorgeous short spy – right back where we had the highs last week.
Jul. 1st, 10:07 am

I'm not seeing anything I want to chase…at all. GLD still looks like a great short.
Jul. 1st, 10:28 am

So clearly chip players are benefiting this morning along with apple and casinos and that's for the most part all sentiment driven plays – oh and of course China KWEB
Jul. 1st, 11:21 am

My IWM $158 PT tagged and now faded. Crude tagged 61.8Fib and faded. I could go on… Fundamentals are greatly diverged from price action. Asian, euro zone PMI were disastrous but US ISM services was less bad than expected. All in all, china plays that gapped up are sentiment driven and at risk of reversing: AAPL, Semis, Casinos… Spying VIX calls now
---
Macro Matters
US Economic Releases
ISM Manufacturing Report for June
U.S. manufacturers grew in June at the slowest pace in more than two years, hurt by trade tensions with China and Mexico and weak exports, a survey of executives found. The Institute for Supply Management said its manufacturing index slipped to 51.7% in June from 52.1% in the prior month.
Construction Spending for May
Outlays for U.S. construction projects fell 0.8% in May at a seasonally adjusted annual rate of $1.3 trillion, the Commerce Department reported Monday. That's the biggest drop since November. Economists polled by MarketWatch had expected growth of 0.3%. Spending in April was revised higher to a 0.4% gain from the prior estimate of a flat reading. Residential construction, which has been weak, fell 0.6% in May. Spending on public construction projects dropped 0.9% in the month.
Trade Wars and More
Hong Kong Protesters Trash Legislature, Testing China's Patience
Protesters occupied and ransacked Hong Kong's legislative chamber on Monday in a dramatic escalation of demonstrations against the city's China-appointed government, prompting police to fire tear gas to clear the area.

Demonstrators flooded into the Legislative Council after riot police suddenly retreated just before 9 p.m. local time. Protesters — many wearing hard hats, face masks and black shirts — moved into the building, pulling down portraits, spray-painting slogans and draping a Union Jack-emblazoned colonial flag across the legislative president's desk.
Iran amasses more enriched uranium than allowed under pact, denies breach
Iran announced on Monday it had amassed more low-enriched uranium than permitted under its 2015 deal with major powers, its first major step beyond the terms the deal since the United States pulled out of it more than a year ago.

Iranian Foreign Minister Mohammad Javad Zarif, who announced the move, said it nevertheless did not amount to a violation of the accord, arguing that Iran was exercising its right to respond to the U.S. walkout.

The step, however, could have far-reaching consequences for diplomacy at a time when European countries are trying to pull the United States and Iran back from the brink of war. It comes less than two weeks after U.S. President Donald Trump ordered air strikes on Iran, only to cancel them minutes before impact.
Stocks of Interest in the News
Boeing (BA): The hits just keep on coming for Boeing. Bad Optics.
It has now been reported that Boeing's 737 Max Software was outsourced to $9-an-Hour Engineers
It remains the mystery at the heart of Boeing Co.'s 737 Max crisis: how a company renowned for meticulous design made seemingly basic software mistakes leading to a pair of deadly crashes. Longtime Boeing engineers say the effort was complicated by a push to outsource work to lower-paid contractors.

The Max software — plagued by issues that could keep the planes grounded months longer after U.S. regulators this week revealed a new flaw — was developed at a time Boeing was laying off experienced engineers and pressing suppliers to cut costs.

Increasingly, the iconic American planemaker and its subcontractors have relied on temporary workers making as little as $9 an hour to develop and test software, often from countries lacking a deep background in aerospace — notably India.
From Bloomberg:
Odd Lots: Why a strong dollar causes most of the world major pain.
Gold sinks the most in a year.
Bitcoin tumbles.
Banks "will pump out more cash to shareholders after all 18 lenders passed the Federal Reserve's annual stress tests. […] will boost payouts through dividends and stock buybacks 18% to more than $173 billion, a record for the group." (Bloomberg)
Great Reads
More of a who would have thought about: Is Reheated Pasta Less Fattening?
As a follow up to the Bloomberg Feature posted last week, Reuters Investigates explores: How judges added to the grim toll of opioids
Wall Street Jane's Journal
Jane is not only Samantha's Live Trading Room moderator, she facilitates client engagement and relays Samantha's trade ideas into the LaDucTrading StockTwits Premium Room. A former banking VP during the GFC, she now actively trades full-time and actively shares her trading ideas, plan and process.
I've said it before, but being honest about your trading and results is one of the toughest things to face – let alone share it with others. There are some fantastically honest traders on social media, but they are few are far between compared to the guys that have made millions and are driving lambos. Ha.
In the interest of maintaining honesty for the StockTwits Premium members I just have to force myself to put it out there. I also want them to know I am thinking about what I did wrong, what bad habits are creeping back in to the game, and what I should do to take a step back and preserve my capital in times of sub par performance.
Note: should say Sunday night..duh