Market Thoughts
It's been over a year now since the 'official' start of the US-China Trade War, if picking
Day 1: July 6, 2018 – US implements first China-specific tariffs.
I wrote about this disconnect between market price action and valuations in my
SeeItMarket article
, Livin' On A Prayer
. My refrain for the past year has been: Big Moves from sideways-to-lower into the 2020 elections, and no trade deal, as market prices in the risk:reward of Fed Cuts, Earnings Contraction and Trade Wars. We are
Day 395 from some time-lines
in this US-China Trade War, and in many ways, Wall Street is just waking up to the fact the trade war has become increasingly intractable to the point that nothing else matters. Not even Fed rate cuts, as I wrote about in my
MarketWatch article,
Stock market will be sorely disappointed by a Fed rate cut
.
So where will dollars flow if not in equities?
There is already a Wall Of Money on the sidelines. Worldwide QE created a lot of it but few good vehicles into which to invest it!
Negative debt is now 26.3% of all sovereign bonds, also a new record… Think of negative rates as a "storage fee" for this excess capital that is not needed. Jim Bianco
Some will continue to take their cue from Buffet where Berkshire Hathaway's recent earnings release shows they are increasing not deploying their cash holdings:
Due to prices being "sky-high for businesses possessing decent long-term prospects," cash now stands at $122 billion. This increase reflects a $1 billion net reduction in holdings of financial #stocks. @elerianm
The safety trade of US Dollars would normally be a no-brainer if it were not for coordinated effort by Fed and Trump to pull it down.
There was some idea that the Fed could do it, but Powell (is accused) of mangling the message.  POTUS understood the signal and ended the tariff truce within 24 hours of FOMC.  That succeeded where the Fed failed:  to start a $USD correction. Marc Chander
Bitcoin is a thing. Bitcoin has the early adopter and momentum chasers but is not yet mainstream to ensure a 'safety trade'. Unless you are a Swiss currency trader?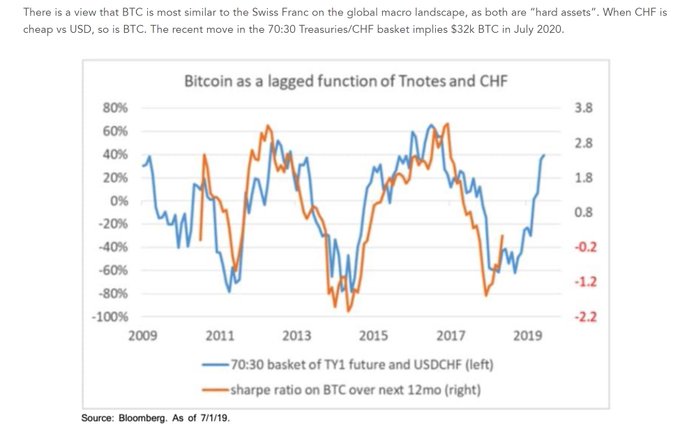 Industrial Commodities and Oil continue to disappoint, yugely. Not to mention the real threat of lower prices should China actively retaliate. Remember the Shale take-down attempt by the Saudis in 2015-2016 when oil went to $26 and all things oil and gas experienced an Industrial Oil Recession, including but not limited to over $66B in bankruptcies? Well, they aren't exactly out of the woods from that devastating time and if anything these companies are just more indebted. Yeah, I don't think money will be hiding out there, either, not until rates reverse anyway.
So, with that, it's Equities or Cash and it bears repeating: CASH IS A POSITION!!
Either way, I'll be trading equities actively and you can follow along very easily:
Performance: Since launching my new fund just 3 short weeks ago – and despite the chop – I have managed a +9.34% total account gain (MTM) in my account and all trades communicated real-time to clients from my brokerage-triggered trade alert system. Also of note that these results were based on only 30% of account value (so 70% in cash) to generate that ROI. Bonus: no trade was more than 1.5% of available equity! 
---
---
Few Housekeeping Announcements:
Looking to change it up, so this Daily Market Thoughts post is announcing the following changes moving forward into the new month:
Samantha Says – the select market commentary from Samantha's

Live Trading Room

 and 

StockTwits Premium Chat Room

– will no longer be included. Interested to know what I see and how to trade it with maximum benefit and minimum risk? Then you must join me. Macro-to-Micro market analysis and brokerage-triggered trade alerts are only available on my website for clients of LaDucTrading.
"Economic Data", "Trade Wars and More" will no longer be supported as part of this Daily note, along with "WallStreetJane's Journal". Jane misses the grind of professional poker.
LaDucTrading's

StockTwits Premium Chat Room 

will be closed at the end of August. WallStreetJane was doing a great job of engagement with ST members and relaying my trade ideas in a timely manner, but the ST platform is not user-friendly, the ST marketing non-existent and the resulting headcount does not justify my continued investment (direct costs and time).
I will be offering current ST members of my Premium Chat Room access to my Live Trading Room for a FREEMONTH ($500 value) as a thank you for your support of this StockTwits Premium Chat Room owned and operated by Women. Email support@laductrading.com for your access code. 
---
Samantha Says
Aug. 2nd, 7:35 am

GM! Global equities are soft as expected and US futures are red before nonfarm payrolls at 8:30. Here are some ideas for the day: Hedge! Not only does my chart read say "not done" which was my assertion after Powell disappointed and after Trump escalated the China Trade War. Now… Piling on to the latest tariff threats against China, President Trump will make an announcement on EU trade at 1:45 p.m. ET! Trump previously threatened tariffs on EU cars, food and alcohol, and a deadline for talks was expected to come due in November. He has clearly moved that up.
Aug. 2nd, 7:48 am

1/5th of Japanese imports into South Korea -mostly semiconductor components- are at risk in a renewed trade conflict. This is a new threat to the global supply chain for smartphones and electronics. I am short $SMH and will add more.
Aug. 2nd, 7:51 am

The Pentagon, under pressure from Trump, has announced the JEDI cloud contract on hold. $AMZN $MSFT (I am short)
Aug. 2nd, 8:06 am

My call the other day that SPOT would get defended at $146 and AAPL would break $218 are still working.

X beat expectations. I am Long but no commodity is safe given the dollars' strength. But my thinking Gold/ Miners Would pull back for more than a morning is proving false;

These two plays love the instability and volatility Of Fed missteps and Trump's Trade War Gold +1.1% to $1448. Bitcoin +5.7% to $10492
Aug. 2nd, 9:11 am

GBTC; Bitcoin trust been moving steadily higher and holding the 10WK.
Aug. 2nd, 9:16 am

QCOM; took a short position y-day along with BA and SMH after Trump tariff tweet. (Also tried a 190×180 PUT spread on (QQQ) as well.)
Aug. 2nd, 9:20 am

EEM; hit hard y-day and looks like a bear flag w. a H & S to boot on weekly. Looking for lower.
Aug. 2nd, 9:28 am

CLDR; I'm long and Icahn just announced a stake this morning. First PT is 8.50, then 9.25, but think it could keep going. Love these plays where the name was left for dead.
Aug. 2nd, 9:32 am

SQ; think it's going to get defended at 69.40. Great earnings despite this initial move lower.
Aug. 2nd, 9:38 am

AMZN; Getting hit again. Looking for 1817 and then 1776 (from Short idea when broke $1990!)
Aug. 2nd, 9:42 am

GS; Slammed again. Blew through 3 levels of support and now looking at 203.
Aug. 2nd, 9:57 am

MSFT; Want to see break of 134.67 and then good potential down to 128.
Aug. 2nd, 11:05 am

: Getting really oversold here (intraday). Anticipating the potential snap back, but then an opportunity to re-short (in coming weeks).
Wall Street Jane's Journal
Jane is not only Samantha's Live Trading Room moderator, she facilitates client engagement and relays Samantha's trade ideas into the LaDucTrading StockTwits Premium Room. A former banking VP during the GFC, she now trades full-time and actively shares her trading ideas, plan and process.
Follow Up: $ADSK
Last night I discussed how the head and shoulders pattern had broken, with a close below the neckline. It was already approaching oversold levels and contended it may bounce. Wrong. What a classic break with a measured move to the first target area of 146 hitting today. I was watching it just keep falling with eyes wide and mind irritated I didn't take the trade upon first alert of neckline break. I'll be curious to see what next week brings for this name.
Macro Matters
Economic Data
Nonfarm Payrolls: The economy created 164,000 new jobs in July, in-line with forecast of 165,000.

Unemployment Rate: The unemployment rate remained unchanged at 3.7%, remaining near a 50-year low.

Average Hourly Earnings: Wage gains remain at just slightly above 3% a year.
Trade Deficit: The deficit decreased 0.3% to $55.2 billion from a revised $55.3 billion in May
Exports declined 2.1% to $206.3 billion, marking the lowest level since December. The U.S. exported fewer autos, drugs and computer accessories.

One bright spot: Inflation-adjusted exports of U.S. oil hit an all-time high on the back of surging domestic production that's reduced the need for foreign imports. The real trade deficit in petroleum was the lowest on record.
Consumer Sentiment Index: The University of Michigan said the final reading of its consumer-sentiment index for July was 98.4, up from 98.2 in June. Forecasts expected a 98.5 reading.
The index of consumer expectations rose while that for current conditions fell. Recent surveys have pointed to the most favorable personal finance expectations since May 2003, but consumers also have begun to take precautionary measures to increase savings and reduce debt, the University of Michigan said.

Attitudes toward buying homes and vehicles have significantly receded from their cyclical peaks despite declining interest rates, the University of Michigan said.
Factory Orders: U.S. factory orders rose 0.6% in June following two consecutive decline. Orders minus transportation moved up 0.3%. Core capital goods orders advanced a revised 1.5%, down from a preliminary 1.9%.
Trade Wars and More
China Vows to Counter Trump's Tariff Threat as Trade Rift Widens
Beijing pledged to respond if the U.S. insists on adding extra tariffs to the remainder of Chinese imports, as President Donald Trump's abrupt escalation of the trade war between the world's largest economies sent stocks tumbling across three continents.

Trump announced Thursday that he would impose a 10% tariff on a further $300 billion in Chinese imports, a move set to hit American consumers more directly than his other tariffs so far. The new duties, which Trump said could go "much higher," will be imposed beginning Sept. 1 on a long list of goods expected to include smart-phones, laptop computers and children's clothing.
Trump rolls out trade agreement with the EU one day after escalating tensions with China
President Donald Trump announced Friday the European Union would open its beef market to American farmers in a bid to defuse one front in a yearlong trade trade dispute between the two sides.

"The agreement we're about to sign keeps one more promise to the great patriots of American agriculture," Trump said of the deal, under which the US would get guaranteed share of the EU's 45,000 ton quota for hormone-free beef. "They've really been looking forward to this for many, many years."
EU settles on World Bank's Georgieva to lead IMF
European Union governments picked Bulgaria's Kristalina Georgieva as the bloc's candidate to lead the International Monetary Fund after more than 12 hours of talks on Friday that highlighted the EU's internal divisions.

The 65-year-old chief executive of the World Bank got the backing of a majority of the 28 EU states, defeating the Dutch candidate Jeroen Dijsselbloem after two rounds of voting and prolonged negotiations among EU nations.

Georgieva is a center-right politician who grew up in Bulgaria under communism before a career that brought her to the top of the World Bank and the European Commission.
Great Reads
Jane: A few days ago an article about an invention to remove microplastics from sand was posted and now I see this: Irish Teen Wins 2019 Google Science Fair For Removing Microplastics From Water So cool.
Samantha: Implications for a Commodity Run 2020 by Brian Gilmartin has been a theme of mine for awhile so like seeing another perspective on it from a very different lens.