By many measures – being near all time highs in Stocks, with VIX low and falling Gold – it seems markets are nonplussed despite the disruptions that are and can occur to reprice risk:
Trade Tariffs
Yuan Devaluation
Global Growth Slowdown
Japanification
Ebola
Iran
To quote Peter Atwater:
And there you have it. Assuming the many existential risks that are out there can and do remain psychologically distant, there is no reason the markets can't and won't melt up from here. Investor complacency is staggering. Forget Beyond Meat; we are now beyond words. This risk, however, is existential. If one of the risks identified above becomes real, it will be game over. When it comes to investors' binary decision-making, it will be all or nothing. This is a market without a net. Back through Monday's low a cascade could easily take hold. In the meantime, party on.
Even thought Market Prices are holding steady, AAII Sentiment is Turning Bearish quickly, according to Bespoke:
One week after coming in at its highest level since October, bullish sentiment has fallen off of a cliff this week to 29.82% versus 43.12% last week.
This was the largest drop in bullish sentiment since December 13th of last year, when it fell 17.04% in a week.
Trump Crashes Trade Talks
As

BBG

 noted, another striking detail about the coverage is that China's strident trade rhetoric has suddenly been plastered across state-controlled media. The People's Daily ran three aggressive articles, including two editorials, with titles like "No Power Can Stop The Chinese People From Achieving Their Dream" – "the trade war will not cripple China, it will only strengthen us as we endure it.
So with China Tariffs likely to stick, the Trade War to drag out well into the 2020 elections, if not longer, and
global slowdown picking up
, it would seem logical that none of this is priced in. But when will the market care? But with low rates and US Dollar holding, buybacks in full force and Earnings not blowing out, my thesis of sideways to lower remains core but my expectation for a Flash Crash Surprise is also growing.
Rates Matter
Luke Kawa, Bloomberg
If the market switched to betting the Fed will stay on hold this year, and if 10-year yields moved in lock-step with fed funds futures, then 10-year Treasuries would be north of 2.60% and trading closer to the 2019 highs than the trough.For now, Bank of America sees a clear trade-war trade in the bond market: a steeper real 2s10s Treasury curve."On a happy conclusion to trade negotiations, real 2s10s should at least track nominal 2s10s steeper (real 2s10s is currently inverted, after all)," writes Mark Capleton. "On abandoned talks, full coverage tariffs that look likely to stick would lift 2y inflation and this, coupled with expected Fed cuts, should slash 2y real rates, steepening real 2s10s sharply."
The USD Matters A Lot
The Week Ahead
The following 
Monday, May 27
, the stock market will be closed in honor of Memorial Day. Next week we have a holiday-shortened week with the three-day weekend. On Wednesday, the Fed will release the minutes from the last Fed meeting. On Tuesday, the existing-home sales report comes out. And all week we have Trump so don't forget to hedge!
Trade Ideas Today
I am leaning bearish: DE CAT, TSLA RH, NVDA MU, and AAPL…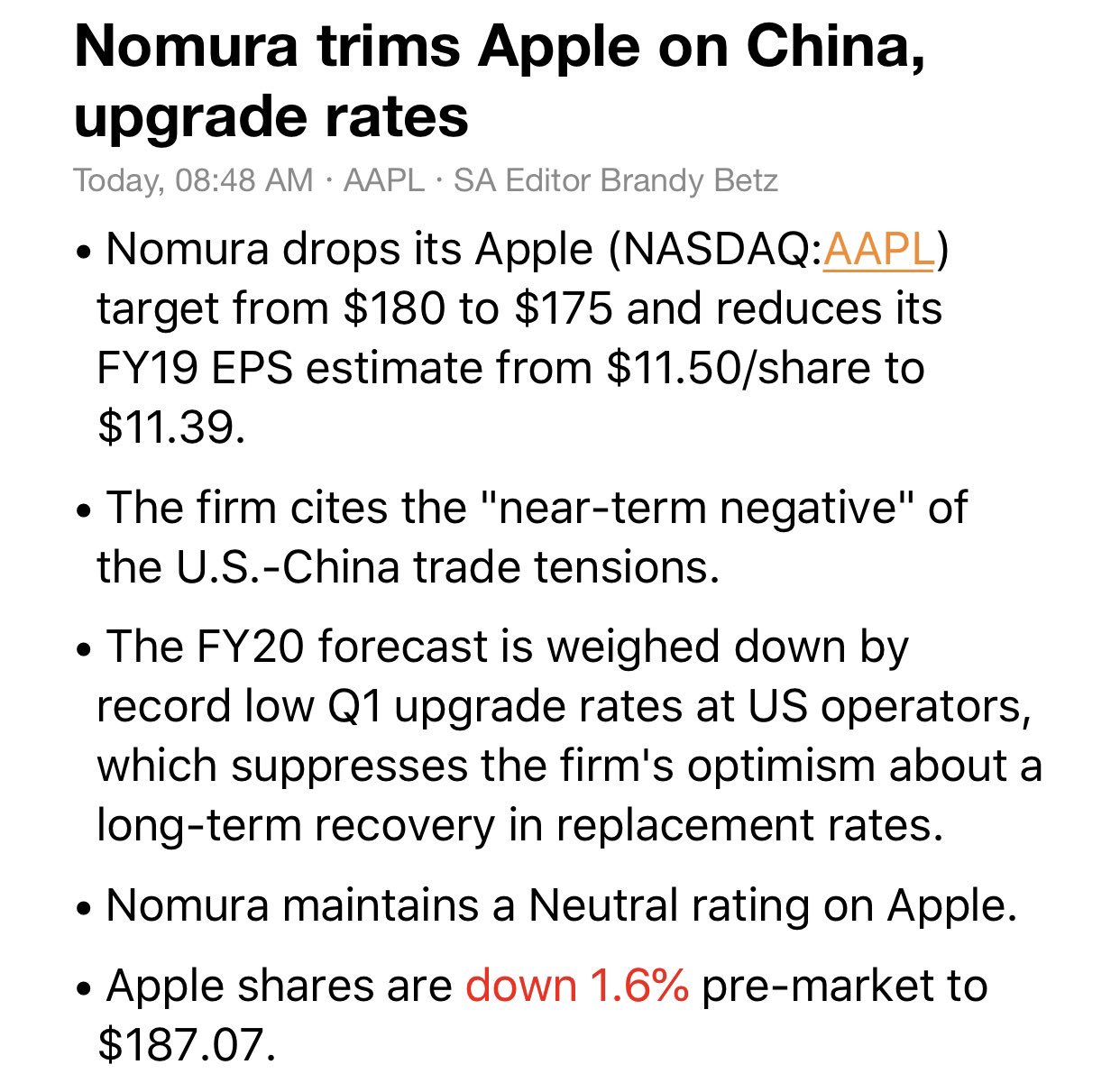 ---
And Banks, should XLF lose $26.50…
---
Market Thoughts
China has pulled back from trade talks. Their propaganda machine is rallying the Chinese people to endure the American bully, the economic pain, the long conflict ahead. And they are backing Iran. With Trump escalating the matter with Huawei, I expect Semis to come under more pressure – especially after NVDA reported earnings last night that did not incite confidence.
DEUTSCHE: "The situation with #Huawei could have negative implications for the US economy, semiconductor sales are already declining at the fastest pace since the financial crisis .." pic.twitter.com/eZhs5P4hjK

— Carl Quintanilla (@carlquintanilla) May 17, 2019
Given Trump's Huawei Threat Is Nuclear Option to Halt China's Rise – Bloomberg – what if China retaliates against AAPL, SBUX, BA. QCOM or other key Big US firms invested heavily in China and deriving a good percentage of sales from there? I wrote about this May 7th: Market Thoughts: China Short Ideas and My #NoTradeDeal Thesis
Open up your favorite charting platform and type in the following tickers – many are done considerably from my client post: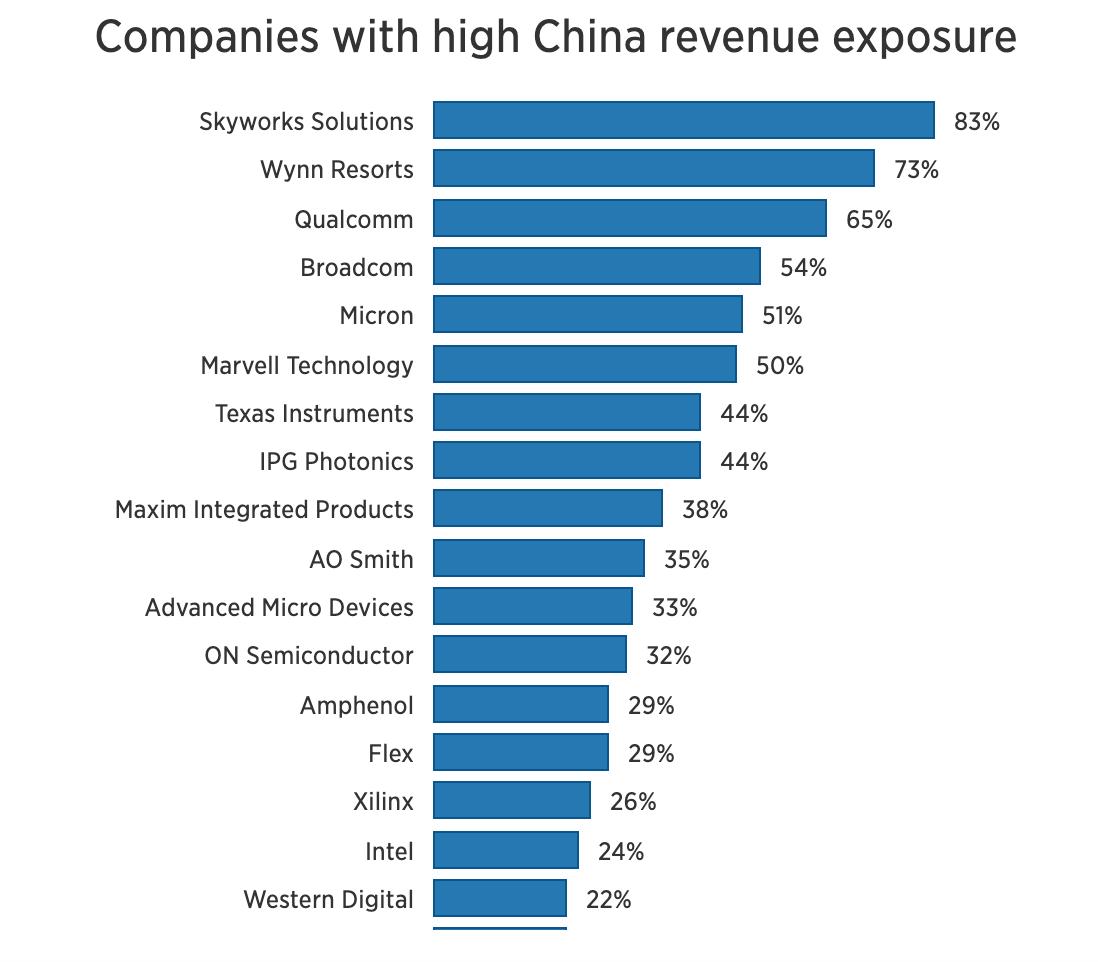 ---
Key Levels
Just In: Nomura's new CTA Pivot Points:
S&P 500, currently 68.8% long, [2878.6], more buying over 2898.02 (+0.67%) to get to 84% , max long over 2898.31 (+0.68%), selling under 2740.71 (-4.79%) to get to 65% , more selling under 2691.48 (-6.50%) to get to -20% , flip to short under 2691.48 (-6.50%), max short under 2691.48 (-6.50%)

NASDAQ 100, currently 68.8% long, [7600.25], more buying over 7677.6 (+1.02%) to get to 84% , max long over 7678.36 (+1.03%), selling under 7005.86 (-7.82%) to get to 65% , more selling under 6778.24 (-10.82%) to get to -20% , flip to short under 6778.24 (-10.82%), max short under 6778.24 (-10.82%)

Russell 2000, currently -91.6% short, [1559.9], more selling under 1543.52 (-1.05%) to get to -96% , max short under 1543.36 (-1.06%), buying over 1568.14 (+0.53%) to get to -76% , more buying over 1615.24 (+3.55%) to get to 20% , flip to long over 1615.24 (+3.55%), max long over 1615.39 (+3.56%)
Translation: Their Quant Model says to go 100% Short" below $2700 and 100% long above $2900 basically…
And my FAVE INTERMARKET CHARTS
---
And with that, I wish you a great weekend!
Samantha