Market Thoughts
Last week saw the official return of "bad news is good news" as the more bad news (NFP in particular Friday) means more Federal Reserve intervention.  Economic data was poor across the board but markets rallied because Powell said Fed would do whatever it takes.  So now Bulls/Bears are debating whether a rate cut will help avoid a garden-variety slowdown, or whether the Fed is cutting rates into a cycle of slower growth and recession that can trigger a strong market sell-off.
My Take: Regardless of Trade War headlines and realities, growth will disappoint as trouble seems to have actually begun in 2017 before Trump's Trade Wars.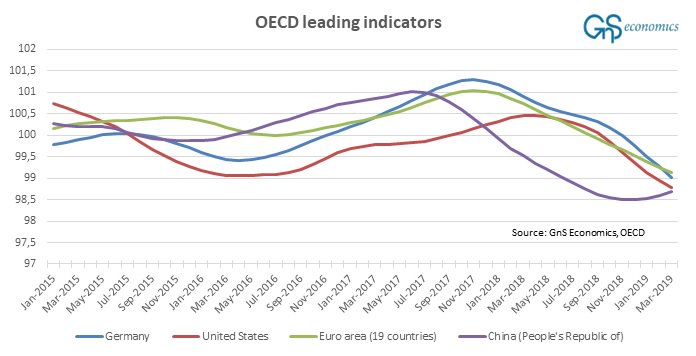 In the meantime, the drop in yields has encouraged sentiment to drive stocks higher. The USD, for me, makes the weather so watching developments with China and their devaluation of the Yuan as 'currency' against Trump's higher tariffs, expected to go into effect sooner rather than later it appears from the Newest Trump Threat.
The Mexican Tariffs are Off, even though the Mexicans say the terms were already agreed to months ago. (And there is no big agriculture buyer.)
Global stocks rallied after President Donald Trump suspended plans for tariffs on Mexico. Sovereign bonds fell, along with gold and the yen, as demand for havens ebbed.
China Tariffs are Back On, if Chairman Xi doesn't meet Trump at the G20 meeting. (Not the Onion.) Trump says they will be effective immediately.
"I think he will go, and I think we're scheduled to have a meeting," the president told CNBC, adding Beijing is "going to have to make a deal."
Trump said: "our Fed is very, very destructive to us" (9:30min) at the same time Trump expressed his envy for a dictator of a totalitarian state.
Trump renewed his attack on the Fed, complaining it not having the power over the Fed that he says Xi wields over China's central bank. "The head of the Fed in China is President Xi," he said. "He can do whatever he wants."
Hong Kong marches against Extradition
The U.S. State Department expressed " grave concern" over a proposed law in Hong Kong that would allow extraditions to mainland China, warning that the move could further undermine the city's freedoms and damage its business environment. If the proposal is passed, it could for the first time mean that by law Hong Kong residents might face justice in Chinese courts. A protest held on Sunday was one of the biggest seen in the city since 1997. Here's why Hong Kong craves autonomy.
Merger Monday:
Trade Wars and More
The US-China Trade War Rages On: DRAM Price Decline 3Q to Widen to 15% – Trendforce has more: As ripples from the US ban continue to spread, Huawei's shipments of smartphone and server products are feared to face heavy obstacles for the next two to three quarters, impacting peak-season-demand for DRAM products 2H and the time of price precipitation. This could impact MU and SK Hynix the most.
Alibaba's Hong Kong share offering should worry U.S. markets.
Macro Matters
Citi warned trade tensions are set to roil stocks, bonds and commodities even more. The bank's base case predicts Trump applying 25% tariffs on additional Chinese goods. If the Fed doesn't cut, expect a "full scale bear market" that sends the S&P 500 down 20% from its April peak, 10-year Treasury yields tumbling to 1.5% or lower and a surge in gold to $1,600 an ounce.
The macro and micro economic data continue to deteriorate," wrote Morgan Stanley's chief investment officer, pointing to weak durable goods orders, disappointing capital spending, soggy retail earnings, lackluster freight shipments, and a "very soft" employment number as evidence of an economy running on fumes.
Bulls beware: The 2020 oil market is quickly turning ugly.
Samantha Says –
Market Commentary from Samantha's Live Trading Room and StockTwits Chat Room
Jun. 10th, 8:57 am 

Check out GLD rejection at Double Top. Above is very bullish – BUT it is also 3 levels of resistance so needs to GAP and GOOOOOO. Not today.
Jun. 10th, 9:02 am 

Remember in room 5/27 I said I wouldn't buy 1st tag but 2nd (6/3) for BO >29.50… now $33.50 with upgrades galore today on AMD.
Jun. 10th, 8:53 am BIG DATA TIE UP: $DATA / $CRM deal – SO Software $IGV names moving on it. BTW there was YUGE OCT 120C on DATA as The Tell. $SPLK >114 could lift to 121.64. AYX is likely M&A from MSFT in time. NOW >285 can run to 300. TWLO >147 (261,8 FIB RET) is either going to be a parabola or failed BO and return < for some serious shorting. Right now, not shortable sector.
Jun. 10th, 9:05 am

SQ >69.40 is very constructive to 71.64 then 73, but that'll be tough (200D). Possible chase
Jun. 10th, 9:07 am 

As discussed last wk, FB >173 (staying >173) is bullish to 178 (21D). Opening >174.75 on Wk close>173 is a gap fill long. chase potential.
Jun. 10th, 9:08 am

SPOT was spotlighted Tues when $127, now approaching 200D at 144. Nice.
Jun. 10th, 9:13 am

QURE potential M&A as well. Kinda like July 75x85CS (spend) ~$2.50 to make $10. caps profits, yes, but IV is ridiculous … needs to stay >$70.
Jun. 10th, 11:08 am $SPX

possible negation of (topping) H & S pattern now. if pulls back to 2836 and bounces from there it's market bullish.