I recently wrote an article for See It Market – There's A Lot Not Priced In – with key macro themes I believe are not priced into the market. Here's an update on that theme with focus on key economic leading indicators that show more evidence of slowdown.
Recent Data Disappoints
Recent data failed to boost spirits following last week's barrage of tariff-related developments. Case-Shiller Home Price growth continues to decelerate, Durable Goods Orders dropped, and New Home Sales disappointed (though they did so on the back of robust upward revisions). Complementing this dour mood is the continued inversion
of the 10yr – 3month yield curve, which pessimists point out is the San Francisco Fed's "most reliable [recession] predictor". Include today's Dallas Fed Survey, which missed by a whopping 185%, and it's no surprise to some, the sky appears to be falling. Macro Intelligence 2 Partners
And this was before the Flash May Markit PMI report wherein Services fell to a 39 month low and Manufacturing to a 116 month low – all the way back to September 2009.
Here are a few other alarming Slowdown Trends:
Air Freight Slowdown / World Trade Volume Slowdown
Trucking Slowdown
Global (Developed Market) PMI Slowdown
Spending Slowdown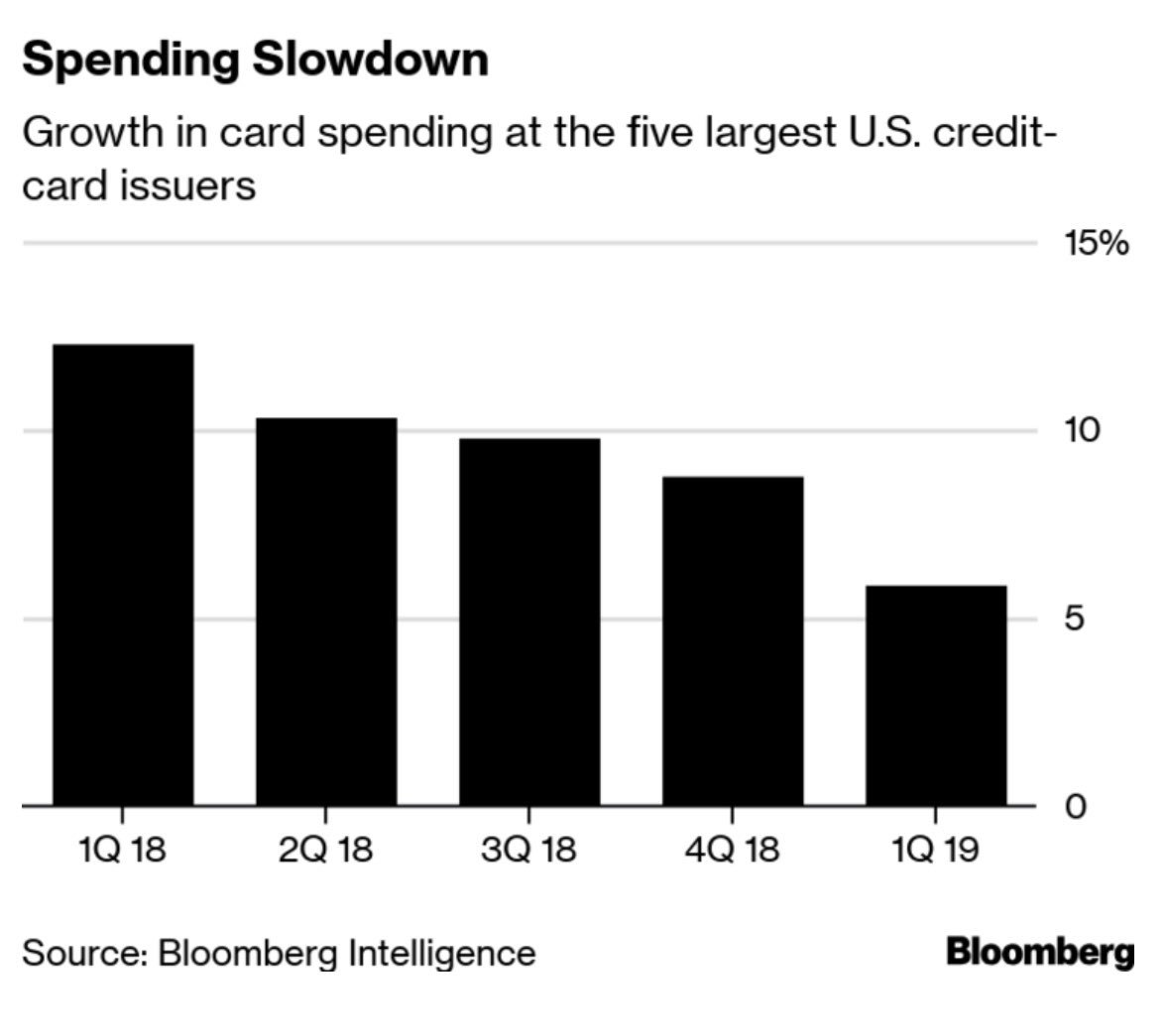 But Auto Loan Delinquencies Surge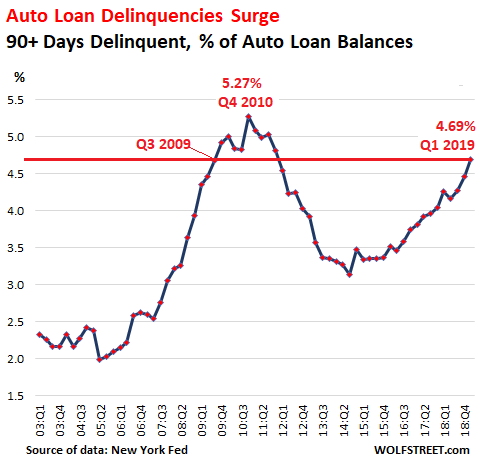 Auto industry weakness is manifest in three areas of great (recession concern):
Surging loan delinquencies of 4.7% (see chart above) similar to 2009 and yet occurring against a low rate employment backdrop.
Alarmingly Auto Loans is the 2nd biggest consumer debt category – $1.28T up 58% from Q1 2008.
Layoffs in Auto industry are up 207% over last year.
---
As much as the Trade War can be attributed to slowdown in a number of key areas – World Trade Volumes that impact Freight and Manufacturing Slowdowns; Tariffs that can decrease Consumer Spending and contract Company Profits/Revenues – the
Auto Industry weakness as detailed in this RealVision Interview
existed before the Trump Tariffs. That points to structural weakness in the US Economy and will compound the growth slowdown that these other indicators are demonstrating, even if the stock market doesn't know it yet.